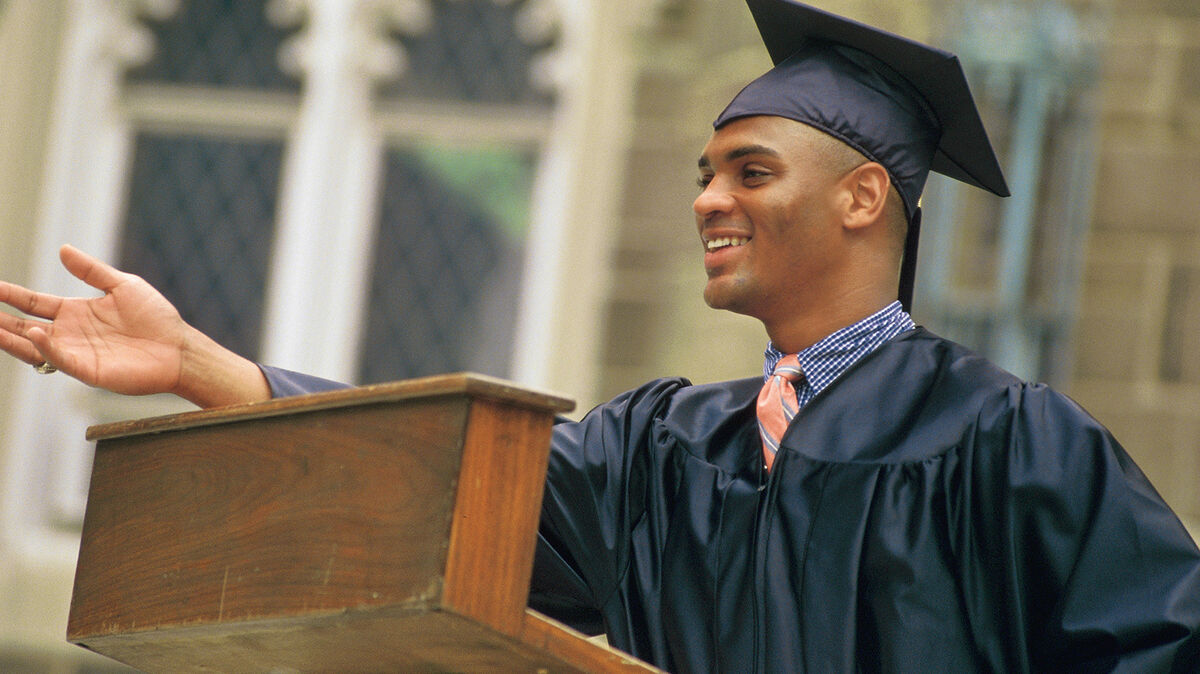 Writing a graduation speech is a huge honor and your chance to send off your classmates with wit and wisdom. Whether you're excited or terrified to give the speech, this is not the kind of opportunity you should wing. Get started with our graduation speech outline and a few writing tips to ensure your speech is the most memorable part of your school years.
Sample Graduation Speech Outline
The graduation speech outline we've provided here can help you get started, but feel free to make this your own. Omit any categories that don't fit your style, and add others as you see fit. You can also reorganize these categories for a flow that fits your personal style.
1. Thank the Previous Speaker
Begin with gratitude and grace: Be sure to thank the person who introduced you, both for the introduction and the work they do with the school.
Don't assume that all the people in the room know who you are. Introduce yourself, including your name and why you were chosen to give the speech.
3. Share a Motivational Quote
Plan to share some sort of motivational quote or personal narrative with your classmates. Illustrate how it connects with your class's experiences in the school. This will serve as an opportunity to bring everyone together and get your classmates excited about the future.
4. Share Some Good Advice
This is, perhaps, the most important part of your speech. Share meaningful advice for the years to come. Highlight some of the expectations that are about to come your way. Keep the tone positive, and remind everyone they have what it takes to succeed in their future.
Encourage your classmates to remember the good times at your school. Highlight a momentous occasion that everyone partook in. Encourage your peers to take those memories with them wherever they go.
6. Restate Your Motivational Quote
Finish by reiterating the motivational quote you began with, giving it more context. Although you just dipped into the past with one of those "good times," the focus of a graduation speech is on the excitement that's yet to come.
7. Create a Call to Action
Call your fellow students into action. Leave them with an inspiring sentence encouraging them to go out and make a difference in the world.
Finally, thank everyone for their time. Thank them for the memories over the last few years and their time during your speech.

Tips To Help You Write a Graduation Speech
Make sure that your graduation speech is something that you would want to listen to, if you were in the audience. Think of this experience as a time to share an important moment with your peers as a representative of your class.
Speak truthfully and courteously while piquing the interest of your peers. Common themes include dreaming big, learning to fail or never giving up.

Write a speech that showcases your unique voice.

Elicit shared memories of the past, as well as a hopeful vision for the future.

Keep your speech short. People may be too emotional to remember everything you said, but they'll likely remember who talked for too long.
Graduation speeches can inspire, entertain, or both. Remember to be yourself and have fun in this final moment to connect with your class.