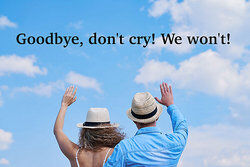 Saying goodbye is not always an easy thing to do, the very thought of it conjures up feelings of sadness and longing. However, there are many funny quotes that can be used to take the sting out of a goodbye: from silly sayings to quotes that offer a lighthearted, humorous farewell that can help replace the sadness with laughter.
Examples of Funny Farewell Quotes
The world without laughter can be a very dull place. Here is a list of farewell quotes (by unknown authors) that are popular and just downright funny.
"When I die, I want to die like my grandmother, who died peacefully in her sleep not screaming like all the passengers in her car."
"I still see your face when I am dreaming. That's why I always wake up screaming.'
"When you feel that nobody loves you, that nobody cares, when all you can do is cry and walk away because everyone is against you, then you are the weakest link. Goodbye!'
"90% of men kiss their wife goodbye when they leave the house. 10% kiss their house goodbye when they leave the wife.'
"Not all goodbyes are sad, for example "Goodbye Class!"
"It will not be the same without you. It will actually be better!"
"Farewell. Someone is really going to miss you. But, it is not going to be me!"
"Having awesome coworkers is a bad habit, because it'll be impossible to work with someone else now that you're leaving."
"On the outside, know that we may be smiling and wish you farewell. But on the inside, we are desperately praying that you will quit your new job and come back to work with us again.
"With your resignation your employment in this office may finish, but the sweet memories of working with you will never diminish."
"Goodnight. I have had a perfect evening but tonight wasn't it."
"Goodbye, we will miss trying to avoid you around here!"
"We are all going to really miss doing all your work for you everyday!"
"Goodbye, don't cry! We won't!"
"It won't be the same without you here, work may actually get done!"
"I am looking forward to not keeping in touch with you! So long!"
"I'll miss you until you come back but I hope you'll make up for it by getting me awesome gifts. Bon voyage."
Funny farewell quotes found in books, movies and songs, or said by famous people are ideal to use for a farewell note or to help you smile through a goodbye. These include:
"You have brains in your head. You have feet in your shoes. You can steer yourself in any direction you choose.' - Oh, the Places You'll Go, Dr. Seuss
"See you later, alligator" - "See You Later Alligator," Bill Haley and the Comets
"A man never knows how to say goodbye; a woman never knows when to say it." - Helen Rowland
"Bye Felicia!" - Friday.
"Goodbye, Vietnam! That's right, I'm history, I'm outta here, I got the lucky ticket home, baby." - Good Morning Vietnam
"Some cause happiness wherever they go; others whenever they go" - The Duchess of Padua, Oscar Wilde
"It is generally agreed that 'Hello' is an appropriate greeting because if you entered a room and said 'Goodbye,' it could confuse a lot of people." - I'm OK, You're Not So Hot, Dolph Sharp
"So long, and thanks for all the fish!" - The Hitchhiker's Guide to the Galaxy, Douglas Adams
"Memorial Service: Farewell party for someone who's already left." - Robert Byrne
Some of the quotes listed above are familiar and can be used to put a smile on your face if nothing else. You may even have heard a friend, teacher or a relative say one or more of these funny quotes once or twice in the past. These quotes are ideal for a number of situations where you must say goodbye.
When To Use Humorous Farewell Quotes
While it is funny to use a quote with some wit in it when saying farewell, it is not always appropriate. There are certain situations when it is suitable to use a funny quote. These include:
As part of a graduation speech
Saying goodbye to a coworker on their last day on the job
At your boss' retirement party
On a teacher's last day of school
Telling a friend farewell when they are moving out of state
Saying bye to a roommate at the end of the semester
Telling a classmate goodbye on the last day of the school year
To a friend or group of friends at graduation
At the end of a seasonal job
When a coworker get a promotion to a different department
On your last day of employment
To a sibling when they are moving out the house
As part of a yearbook message
If you take another look at the quotes you may find one that you can identify with. Ask yourself if it is something that you could see yourself saying to a friend or foe when it is time to say farewell. You never know, one of the above quotes could end up being your signature statement that people will remember you by. If you don't see a quote here that fits your situation YourDictionary has some more funny farewell quotes you can choose from.
Be unique and always consider the situation and company you are in when bidding someone farewell. Remember that saying goodbye doesn't have to be sad. Keep the farewell lighthearted to make it go a bit easier and be less painful.