devour

de·vour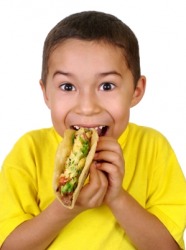 This kid is about to devour a taco.
verb
To devour is to eat or consume something very quickly.

An example of devour is when you eat your lunch really fast.
An example of devour is when you read novels the minute you get them.
An example of devour is when flames destroy a house.
---
devour
to eat or eat up hungrily, greedily, or voraciously
to consume or destroy with devastating force
to take in greedily with the eyes, ears, or mind: the child devours fairy tales
to absorb completely; engross: devoured by curiosity
to swallow up; engulf
Origin of devour
Middle English
devouren
from Old French
devorer
from Classical Latin
devorare
from
de-
, intensive +
vorare
, to swallow whole: see voracious
---
devour
transitive verb
de·voured, de·vour·ing, de·vours
To eat up greedily. See Synonyms at eat.
To destroy, consume, or waste: Flames devoured the structure in minutes.
To take in eagerly: devour a novel.
To preoccupy or obsess in a harmful way: was devoured by jealousy.
Origin of devour
Middle English
devouren
from
Old French
devourer
from
Latin
dēvorāre
dē-
de-
vorāre
to swallow
Related Forms:
---
devour

Verb
(third-person singular simple present devours, present participle devouring, simple past and past participle devoured)
---