raven

rav·en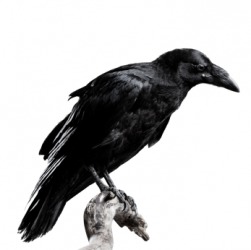 A raven.
adjective
The definition of raven is something that is shiny and black.

An example of something raven is black hair.
noun
Raven is defined as a large black bird with a straight and sharp beak.

A large crow is an example of a raven.
---
raven
any of various large crows; esp., the largest crow (Corvus corax), with a straight, sharp beak, found in Europe, Asia, and North America
Origin of raven
Middle English from Old English
hræfn,
akin to Old Norse
hrafn,
German
rabe
from Indo-European echoic base an unverified form
ker-, an unverified form kor-,
imitative of harsh sounds from source Classical Greek
korax
, Classical Latin
corvus,
raven: so named from its cry
to devour greedily

Obs.

to seize forcibly
Origin of raven
Old French
raviner
from
ravine
from Classical Latin
rapina,
rapine
to prowl hungrily; search for prey or plunder
to devour food or prey greedily
to have a voracious appetite
---
raven
noun
A large bird (Corvus corax) of the Northern Hemisphere, having black plumage and a croaking cry.
Any of several similar birds of the genus Corvus, found in Africa, Australia, and southwestern North America.
adjective
Black and shiny: raven tresses.
Origin of raven
Middle English
from
Old English
hræfn
verb
rav·ened, rav·en·ing, rav·ens
verb
transitive
To consume greedily; devour.
To seek or seize as prey or plunder.
verb
intransitive
To seek or seize prey or plunder.
To eat ravenously.
noun
Origin of raven
From
Middle English
ravin, raven
rapine, plunder, prey
; see
ravin
.
Related Forms:
---
raven

Adjective
(not comparable)
Of the color of the raven; jet-black

raven curls
raven darkness
She was a tall, sophisticated, raven-haired beauty.
Origin
From Old English hræfn, from Proto-Germanic *hrabnaz (compare Dutch raaf, German Rabe, Danish ravn), from Proto-Indo-European *ḱorhâ''- (compare Middle Irish crú, Latin corvus, Lithuanian šárka ("magpie"), Serbo-Croatian svrȁka "˜id.', Ancient Greek κόραξ (kórax)), from *ḱer, *ḱor (compare Latin crepare "˜to creak, crack', Sanskrit kṛ́patÄ").
Verb
(third-person singular simple present ravens, present participle ravening, simple past and past participle ravened)
Origin
From Old French raviner ("rush, seize by force"), itself from ravine ("rapine"), from Latin rapina ("plundering, loot"), itself from rapere ("seize, plunder, abduct")
Proper noun
A female given name for a girl with raven hair, used since the 1970s.
---