adjective
The definition of raven is something that is shiny and black.

An example of something raven is black hair.
noun
Raven is defined as a large black bird with a straight and sharp beak.

A large crow is an example of a raven.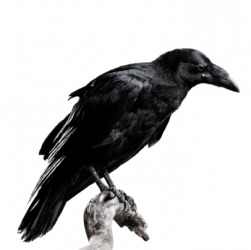 A raven.
---
raven definition by Webster's New World
noun
any of various large crows; esp., the largest crow (Corvus corax), with a straight, sharp beak, found in Europe, Asia, and North America
Origin: Middle English ; from Old English hræfn, akin to Old Norse hrafn, German rabe ; from Indo-European echoic base an unverified form ker-, an unverified form kor-, imitative of harsh sounds from source Classical Greek korax, Classical Latin corvus, raven: so named from its cry
adjective
black and lustrous
transitive verb
to devour greedily

Obsolete

to seize forcibly
Origin: Old French raviner ; from ravine ; from Classical Latin rapina, rapine
intransitive verb
to prowl hungrily; search for prey or plunder
to devour food or prey greedily
to have a voracious appetite
Webster's New World College Dictionary Copyright © 2010 by Wiley Publishing, Inc., Cleveland, Ohio. Used by arrangement with John Wiley & Sons, Inc.
---
raven definition by American Heritage Dictionary
noun
A large bird (Corvus corax) having black plumage and a croaking cry.
adjective
Black and shiny: raven tresses.
Origin: Middle English, from Old English hrǽfn.
verb
rav·ened
,
rav·en·ing
,
rav·ens
verb
, transitive
To consume greedily; devour.
To seek or seize as prey or plunder.
verb
, intransitive
To seek or seize prey or plunder.
To eat ravenously.
noun
Origin: From Middle English ravin, raven, rapine, plunder, prey; see ravin.
Related Forms: