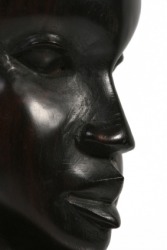 A statue made of ebony.
noun
Ebony is defined as a very dark black color, or a dark wood from a tropical persimmon tree, or any tree that yields this defined as dark wood.

A very dark black kitchen counter is an example of ebony.
Furniture made from a tropical persimmon tree is an example of ebony.
---
ebony
noun
pl.
-·on·ies
the hard, heavy, dark, durable wood of any of various trees, esp. of a group of persimmons native to tropical Africa, Asia, and Sri Lanka: it is used for furniture and decorative woodwork
any tree that yields this wood
black or very dark brown
Origin of ebony
Middle English
ebenif
from Ecclesiastical Late Latin
ebenius
from
ebenus
: see ebon
made of ebony
like ebony, esp. in color; dark or black
designating a family (Ebenaceae, order Ebenales) of dicotyledonous tropical trees and shrubs, including the persimmon
---
ebony
noun
pl.
eb·on·ies
Any of various tropical Asian or African trees of the genus Diospyros.
The wood of such a tree, especially the hard black heartwood of D. ebenum or certain other species, used in cabinetwork and inlaying and for piano keys.
The hard dark wood of various other trees.
The color black; ebon.
adjective
Made of or suggesting ebony.
Black in color.
Origin of ebony
Probably from
Middle English
hebenyf
ebony wood
from alteration of
Late Latin
hebeninus
of ebony
from
Greek
ebeninos
from
ebenos
ebony tree
from
Egyptian
hbny
---
ebony

Noun
(usually uncountable, plural ebonies)
Adjective
(comparative more ebony, superlative most ebony)
Made of ebony wood.
Dark-skinned; black; especially in reference to African-Americans
Origin
From earlier hebeny, from Middle English ebenif, hebenyf (influenced by Late Latin hebeninus), from Ecclesiastical Latin ebenius ("of ebony"), from Latin hebenus ("ebon tree"), from Ancient Greek ἔβενος (ebenos), from Egyptian (hbny).
Proper noun
A female given name from the noun ebony, of mostly African-American usage since the mid-twentieth century.
---