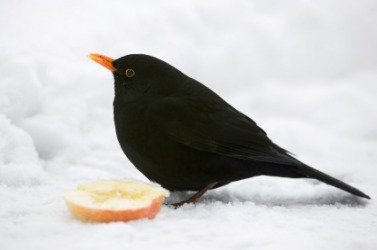 A blackbird in the snow.
---
blackbird definition by Webster's New World
noun
any of various passerine birds (family Icteridae) of the New World, the males having almost entirely black plumage, as the red-winged blackbird or the grackle
a common European thrush (Turdus merula)
Webster's New World College Dictionary Copyright © 2010 by Wiley Publishing, Inc., Cleveland, Ohio. Used by arrangement with John Wiley & Sons, Inc.
---
blackbird definition by American Heritage Dictionary
noun
Any of various New World birds of the family Icteridae, such as the grackle or red-winged blackbird, the male of which has black or predominantly black plumage.
An Old World songbird (Turdus merula), the male of which is black with a yellow bill. Also called merle1.
Australian A South Sea Islander kidnapped and sold into slavery in Australia; a Kanaka.
transitive verb
black·bird·ed
,
black·bird·ing
,
black·birds
Australian
To kidnap (a South Sea Islander) and sell into slavery.