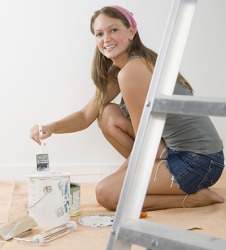 She only wears her shorts that are raveling to do DIY projects around the house.
noun
Raveling, sometimes spelled ravelling, is defined as the act of a thread or fiber pulling away from yarn or cloth.

An example of a raveling is a thread that has pulled away from the cut edge of a pair of woven shorts.
---
raveling
or rav′el·ling
the act of something that ravels or is raveled
anything raveled; esp., a thread raveled from knitted or woven material
---
raveling
also rav·el·ling
noun
A thread or fiber that has become separated from a woven material.
---
raveling

Verb
Present participle of ravel.
---