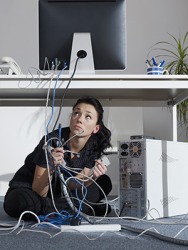 She could not figure out how to connect the ravel of computer cords.
noun
The definition of a ravel is a cluster, tangle or knot.

A balled up, tangled knot of Christmas decorations is an example of a ravel.
verb
Ravel is to tangle, or to complicate something like a question or situation.

When you tangle a handful of cable cords, this is an example of when you ravel.
When someone asks you a question and you give a wandering and confusing answer that only complicates matters, this is an example of when you ravel.
---
ravel
transitive verb
-·eled

or

-·elled

,

-·el·ing

or

-·el·ling
Now Rare

to make complicated or tangled: parts of his argument were all raveled up
to separate the parts, esp. threads, of; untwist; unweave; unravel
to make clear; disentangle
Origin of ravel
Middle Dutch
ravelen
(Du
rafelen
), akin to Low German
rabbeln
, Danish dialect, dialectal
vrøvle:
for Indo-European base see rhapsody
to become separated into its parts, esp. threads; become unwoven; fray (out)

Archaic

to become complicated or tangled
a raveled part in a fabric; raveling
a tangled mass or complication
Ravel
---
ravel
verb
rav·eled, rav·el·ing, rav·els,
also
rav·elled
rav·el·ling
verb
transitive
To separate the fibers or threads of (cloth, for example); unravel.
To clarify by separating the aspects of.
To tangle or complicate.
verb
intransitive
To become separated into its component threads; unravel or fray.
To become tangled or confused.
noun
A raveling.
A broken or discarded thread.
A tangle.
Origin of ravel
Obsolete Dutch
ravelen
from
ravel
loose thread
Related Forms:
rav′el·er rav′el·ler

noun
---
ravel

Verb
(third-person singular simple present ravels, present participle ravelling or raveling, simple past and past participle ravelled or raveled)
Usage notes
The spellings ravelling and ravelled are more common in the UK than in the US.
---