unwind

un·wind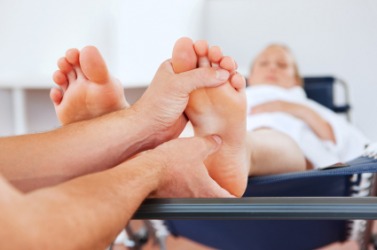 A person gets a foot massage to unwind.
verb
To unwind is defined as to relax or undo something that is wound up.

An example of to unwind is getting a foot rub after a stressful day.
---
unwind
transitive verb
-·wound′

,

-·wind′ing
to wind off or undo (something wound)
uncoil
to straighten out or untangle (something confused or involved)
to make relaxed, less tense, etc.

to close out (a position in a securities or commodities trade)
to sell (a stake in a company, business venture, etc.)
Origin of unwind
Middle English
unwinden
from Old English
unwindan
to become unwound
to become relaxed, less tense, etc.
---
unwind
verb
un·wound, un·wind·ing, un·winds
verb
transitive
To reverse the winding or twisting of: unwind a ball of yarn.
To separate the tangled parts of; disentangle.
To free (someone) of nervous tension or pent-up energy.
verb
intransitive
To become unwound.
To become free of nervous tension; relax: liked to unwind with a cocktail before dinner.
---
unwind

Verb
(third-person singular simple present unwinds, present participle unwinding, simple past and past participle unwound)
To wind off; to loose or separate; to untwist; to untwine; as, to unwind thread, to unwind a ball of yarn

Could you unwind about a foot of ribbon so I can finish the package?

(intransitive, slang) To relax; to chill out; as, to rest and relieve of stress

After work, I like to unwind by smoking a pipe while reading the paper.

(intransitive) To be or become unwound; to be capable of being unwound or untwisted.
Origin
From Old English unwindan. See 1st un-, and wind ("to coil").
---