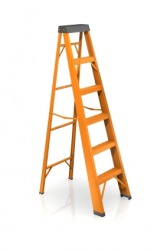 An orange ladder.
noun
The definition of a ladder is something made of two parallel side pieces with evenly spaced cross bars used for climbing, or a rising increase in levels.

An example of a ladder is what someone would use to climb to the ground from a fire escape on the second floor.
An example of a ladder is a person starting in an entry level position and climbing their way up to an executive position.
---
ladder
a framework consisting of two parallel sidepieces connected by a series of rungs or crosspieces on which a person steps in climbing up or down

Naut.

any staircase or vertical set of steps

anything by means of which a person climbs or rises
a rising series of steps, stages, or levels: the ladder of success

Chiefly Brit.

a run as in a stocking
Origin of ladder
Middle English from Old English
hlæder
, akin to German
leiter
from Indo-European base an unverified form
?lei-
, to incline, lean
Chiefly Brit.
to have or cause to have a ladder, or run
---
ladder
noun
a. An often portable structure consisting of two long sides crossed by parallel rungs, used to climb up and down.

b. Something that resembles this device, especially a run in a stocking.

a. A means of moving higher or lower, as in a hierarchy: used his accomplishments as a ladder to success.

b. A series of ranked stages or levels: high on the executive ladder.

A fish ladder.
Sports

a. An athletic workout in which one does progressively longer intervals followed by progressively shorter intervals.

b. One of the intervals in such a workout.
intransitive verb
lad·dered, lad·der·ing, lad·ders
To run, as a stocking does.
Origin of ladder
Middle English
from
Old English
hlǣder
; see
klei-
in Indo-European roots.
---
ladder

Usage notes
For stockings touted as resistant to ladders, the phrase "ladder resist" is used in the UK. The American equivalent is "run resistant".
Verb
(third-person singular simple present ladders, present participle laddering, simple past and past participle laddered)
(firefighting) To ascend a building or wall using a ladder.
(of a knitted garment) To develop a ladder as a result of a broken thread.
Origin
From Old English hlǣder, from Proto-Germanic *hlaidriz (compare West Frisian ljedder, Dutch leer, German Leiter), from Proto-Indo-European *ḱleytro (compare Old Irish clithar 'hedge', Umbrian [script?] (kletram) 'stretcher'), from Proto-Indo-European *ḱley- ("to lean"). More at lean, related to lid.
---