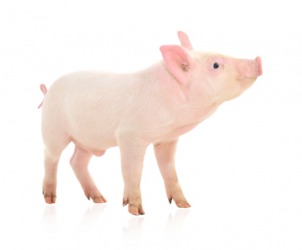 A baby pig.
noun
The definition of a pig is a farm animal with hoofed feet, short prickly hair and a long snout.

An example of pig is where the meat pork comes from.

Pig is defined as a greedy or filthy person.

An example of a pig is a person who hoards.
---
pig
noun
pl.

pigs

or
any swine, esp. the unweaned young of the thick-bodied domesticated species (Sus scrofa)
meat from a pig; pork
a person regarded as acting or looking like a pig; greedy or filthy person

Origin of pig

from the shape or size

an oblong casting of iron or other metal poured from the smelting furnace
any of the molds in which these are cast
pig iron

Slang

a slatternly or sluttish woman
a rude or arrogant person
a police officer: a derogatory term
Origin of pig
Middle English
pigge,
origin, originally , young pig (replacing Old English
swin
) from Old English an unverified form
picga,
as in
picgbread,
mast, pig's food
intransitive verb
pigged

,

pig′ging
to bear pigs
to live in filth, like a pig: usually with it
buy a pig in a poke
to buy, get, or agree to something without sight or knowledge of it in advance
pig out
Slang
to eat too much greedily: often with
on
---
pig
noun
a. Any of various mammals of the family Suidae, having short legs, hooves with two weight-bearing toes, bristly hair, and a cartilaginous snout used for digging, including the domesticated hog (Sus scrofa subsp. domestica syn. S. domesticus) and wild species such as the bushpig.

b. A domesticated hog, especially when weighing less than 54 kilograms (120 pounds).

c. The edible parts of one of these mammals.

a. Informal A person regarded as being piglike, greedy, or disgusting.

b. Derogatory Slang A police officer.

c. Slang A member of the social or political establishment, especially one holding sexist or racist views.

a. A crude block of metal, chiefly iron or lead, poured from a smelting furnace.

b. A mold in which such metal is cast.

c. Pig iron.
intransitive verb
pigged, pig·ging, pigs
To give birth to pigs; farrow.
Phrasal Verbs:
pig out
Slang
To eat ravenously; gorge oneself:
pigged out on cake.
Origin of pig
Middle English
pigge
young pig
probably from
Old English
picga
---
pig

Acronym
Persuade Identify GOTV, electoral technique commonly employed in the United Kingdom
Pretty Intelligence Genius
Police In Gear
---