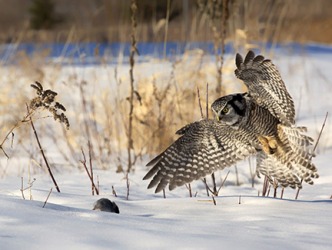 An owl preying on a mouse.
noun
Prey is a person or animal that falls victim to another or an animal that lives off of other animals.

An example of prey is a deer being hunted by a man.
An example of prey is an owl catching and killing a rabbit for food.
verb
Prey is defined as to catch, kill, eat or victimize.

An example of prey is someone being conned out of large amounts of money.
---
prey
Archaic

plunder; booty
an animal hunted or killed for food by another animal
a person or thing that falls victim to someone or something
the mode of living by preying on other animals: a bird of prey
Origin of prey
Middle English
preye
from Old French
preie
from Classical Latin
praeda
from base of
prehendere
, to seize: see prehensile
to plunder; rob
to hunt or kill other animals for food
to make profit from a victim as by swindling
to have a wearing or harmful influence; weigh heavily
---
prey
noun
a. An animal hunted or caught by another for food: The leopard carried its prey into a tree.

b. The collection of animals typically hunted and eaten by a predator: the acoustic location of prey by barn owls.

a. An object or victim of attack: ships that became the prey of pirates.

b. One that is subjected to or afflicted with something: was prey to depression.

c. One that is deceived or taken advantage of by another: easy prey for swindlers.

Archaic

a. The act or practice of preying.

b. Plunder; booty.
intransitive verb
preyed, prey·ing, preys
To hunt, catch, or eat as prey: Owls prey on mice.
To victimize or make a profit at someone else's expense: swindlers who prey upon the weak.
To plunder or pillage: Vikings preying on coastal settlements.
To exert a baneful or injurious effect: Remorse preyed on his mind.
Origin of prey
Middle English
preie
from
Old French
from
Latin
praeda
booty, prey
; see
ghend-
in Indo-European roots.
Related Forms:
---
prey

Noun
(countable and uncountable, plural preys)
(archaic) Anything, as goods, etc., taken or got by violence; anything taken by force from an enemy in war; spoil; booty; plunder.
That which is or may be seized by animals or birds to be devoured; hence, a person given up as a victim.
A living thing that is eaten by another living thing.

The rabbit was eaten by the coyote, so the rabbit is the coyote's prey.

The act of devouring other creatures; ravage.
The victim of a disease.
Verb
(third-person singular simple present preys, present participle preying, simple past and past participle preyed)
(with on) To devour.
---