target

tar·get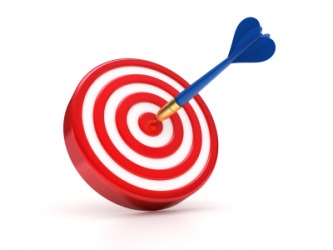 This dart is right on target.
noun
The definition of a target is an object or goal that is being aimed at.

An example of target is a bulls-eye.
verb
Target is defined as to aim at something or someone in particular.

An example of target is to aim a gun while at a shooting range.
An example of target is to concentrate all efforts on one goal.
---
target
Historical

a small shield, esp. a round one

a round, flat board, straw coil, etc., often one marked with concentric circles, set up to be aimed at, as in archery or rifle practice
any object that is shot at, thrown at, etc.

an objective; goal
a date aimed at, as for the completion of a project

someone or something that is the focus of attention, interest, etc.
a ship, building, site, etc. that is the object of a military attack
an object of verbal attack, criticism, or ridicule
something resembling a target in shape or use; specif.,

the sliding sight on a surveyor's leveling rod
a disk-shaped signal on a railroad switch
a metallic insert, usually of tungsten or molybdenum, in the anode of an X-ray tube, upon which the stream of cathode rays impinges and from which X-rays emanate
a surface, object, etc. subjected to irradiation or to bombardment as by nuclear particles
Origin of target
Middle English from Middle French
targette
, diminutive of
targe
, a shield from Frankish an unverified form
targa
, akin to targe
to establish as a target, goal, etc.
on target
completely accurate; precise
---
target
noun
a. An object, such as a padded disk with a marked surface, that is shot at to test accuracy in rifle or archery practice.

b. Something aimed or fired at.

An object of criticism or verbal attack.
One to be influenced or changed by an action or event: Children were the target of the new advertising campaign.
A desired goal: achieved our target for quarterly sales.
A railroad signal that indicates the position of a switch by its color, position, and shape.
The sliding sight on a surveyor's leveling rod.
A small round shield.
A usually metal part in an x-ray tube on which a beam of electrons is focused and from which x-rays are emitted.
Biochemistry A molecule or molecular structure, such as a protein or a nucleic acid, that a drug or other compound interacts with and modulates the activity of.
transitive verb
tar·get·ed, tar·get·ing, tar·gets
To aim at or identify as a target: targeted the airport hangar.
To identify or treat as the object of action, criticism, or change: targeted the molecule for study; targeted teenagers with the ad campaign.
To design for or direct toward a specific object or audience: targeted the ad campaign toward seniors.
Biochemistry To interact with as a target: drugs that target estrogen receptors.
Origin of target
Middle English
small targe
from
Old French
targuete
variant of
targete
diminutive of
targe
light shield
of Germanic origin
Related Forms:
target
archery target
---
target

Verb
(third-person singular simple present targets, present participle targeting or targetting, simple past and past participle targeted or targetted)
To aim something, especially a weapon, at (a target).
(figuratively) To aim for as an audience or demographic.

The advertising campaign targeted older women.

(computing) To produce code suitable for.

This cross-platform compiler can target any of several processors.
Origin
Diminutive of targe.
---
target - Legal Definition
n
The focus of an investigation, as in grand jury target; in corporate law, the focus of a takeover bid. 
---