scapegoat

scape·goat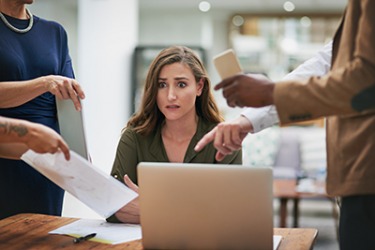 When Verna was blamed for the mistake, she realized she was being made the scapegoat for her dysfunctional department.
noun
The definition of a scapegoat is someone who is assigned the blame or made to take the fall for something.

When three employees plan a prank together and then blame it on one person, getting him fired, the person who was blamed is an example of a scapegoat.
---
scapegoat
a goat over the head of which the high priest of the ancient Jews confessed the sins of the people on the Day of Atonement, after which it was allowed to escape: Lev. 16:7-26
a person, group, or thing upon whom the blame for the mistakes or crimes of others is thrust
Origin of scapegoat
coined by William Tyndale (1530) from scape + goat, probably from LL(Vulg.)
caper emissarius
, literally , emissary goat, translated, translation of Ecclesiastical Greek
tragos aperchomenos
, departing goat, used as translated, translation of Classical Hebrew (language)
sair laazazel
from
sair
, he-goat +
l
, to +
azazel
, probably name of a desert demon, but uncertain or unknown; perhaps with folk-etym. meaning "goat that leaves," as if from
ez
(female) goat +
azal
, has left
---
scapegoat
noun
One that is made to bear the blame of others.
Bible A live goat over whose head Aaron confessed all the sins of the children of Israel on the Day of Atonement. The goat, symbolically bearing their sins, was then sent into the wilderness.
transitive verb
scape·goat·ed, scape·goat·ing, scape·goats
To make a scapegoat of.
Origin of scapegoat
scape
2
goat
(
translation of
Hebrew
'ēz 'ōzēl
goat that escapes
) (
misreading of
'ăzā'zēl
Azazel
)
---
scapegoat

Noun
(plural scapegoats)
In the Mosaic Day of Atonement ritual, a goat symbolically imbued with the sins of the people, and sent out alive into the wilderness while another was sacrificed.
Verb
(third-person singular simple present scapegoats, present participle scapegoating, simple past and past participle scapegoated)
To punish someone for the error or errors of someone else; to make a scapegoat of.

Don't scapegoat me for your mistake.

To blame something for the problems of a given society without evidence to back up the claim.
---