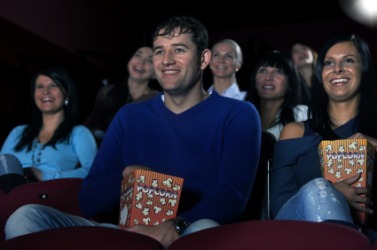 An audience at a movie theater.
noun
The definition of an audience is a collection of people watching or observing something such as a television program, live speaker, or theater performance, or it can refer to people who share a preference for the same type of performance.

An example of an audience is the crowd in the seats at a sporting event.
An example of an audience are people who tune in to a specific morning radio show.
An example of an audience are people who enjoy watching a specific genre of movies.
---
audience
Obs.

the act or state of hearing
a group of persons assembled to hear and see a speaker, a play, a concert, etc.
all those persons who are tuned in to a particular radio or TV program
all those persons who read what one writes or hear what one says; one's public
an opportunity to have one's ideas heard; a hearing
a formal interview with a person in a high position
Origin of audience
Middle English and Old French from Classical Latin
audientia
, a hearing, listening from
audiens
, present participle of
audire
, to hear from Indo-European an unverified form
awiz-dh-io
from base an unverified form
awis-
, to perceive physically, grasp from source aesthete
---
audience
noun
a. A group of viewers or listeners, especially those present at a performance (as a play, concert, or lecture) or a public event (as a rally).

b. The readership for printed matter, as for a book.

c. A group of people who follow or admire an artist or performer: The tenor expanded his audience by recording popular songs as well as opera.

A formal hearing, as with a religious or state dignitary.
An opportunity to be heard or to express one's views.
Origin of audience
Middle English
from
Old French
from
Latin
audientia
from
audiēns
audient-
present participle of
audīre
to hear
; see
au-
in Indo-European roots.
---
audience

Usage notes
In some dialects, audience is used as a plurale tantum.

The audience are getting restless.
---