consultation

con·sul·ta·tion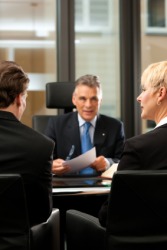 A couple in consultation with their lawyer.
noun
The definition of a consultation is a meeting with a professional or expert for purposes of gaining information, or the act or process of formally discussing and collaborating on something.

When you schedule an appointment with a lawyer to get information on your legal rights, this is an example of a consultation.
When you and your co-workers formally meet to discuss a problem, this is an example of a consultation.
---
consultation
the act of consulting
a meeting to discuss, decide, or plan something, as a meeting of several doctors to discuss the diagnosis and treatment of a patient
Origin of consultation
Classical Latin
consultatio
---
consultation
noun
The act or process of consulting.

a. A conference at which advice is given or views are exchanged.

b. A meeting between physicians to discuss the diagnosis or treatment of a case.
---
consultation

Origin
From Middle French
---