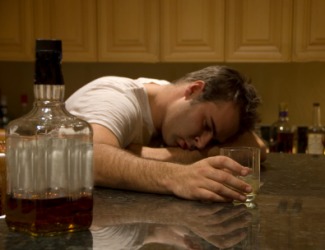 This man is drunk.
adjective
The definition of drunk is someone who is no longer in control of his actions, possibly because he consumed too much alcohol or is overcome with emotion.

An example of someone who would be described as drunk is a person who has had ten beers.
An example of someone who would be described as drunk with lust is someone who has been overcome with lust.
---
drunk
Origin of drunk
Middle English
dronke
from
dronken
, drunken
overcome by alcoholic liquor to the point of losing control over one's faculties; intoxicated
overcome by any powerful emotion: drunk with joy

Informal

drunken (sense )
Informal

a drunken person
a person who regularly drinks alcoholic liquor to excess; drunkard

Slang

a drinking spree
---
drunk
verb
adjective
a. Intoxicated with alcoholic liquor to the point of impairment of physical and mental faculties.

b. Caused or influenced by intoxication.

Overcome by strong feeling or emotion: drunk with power.
noun
A drunkard.
A bout of drinking.
Usage Note: As an adjective, the form drunk is generally used after a verb such as be or seem, while the form drunken is used in front of a noun to modify it directly: They were drunk last night, but A drunken waiter at the restaurant ruined our evening. Using drunk in front of a noun is less formal, although the phrases drunk driver and drunk driving, which have become fixed expressions, are exceptions to this. Drunken also has a more general use, with the meaning "characterized by or related to alcohol or intoxication," as in a drunken sauce (one that has something containing alcohol, such as beer or wine, as an ingredient) or a drunken affair (a celebration in which the participants become drunk). Drunk generally does not have this meaning, although the noun drunk comes close, being a disparaging term for someone characterized by frequent drunkenness or alcoholism. A differentiation between drunk and drunken is sometimes made in legal language, wherein a drunk driver is a driver whose alcohol level exceeds the legal limit, and a drunken driver is a driver who is inebriated.
---
drunk

---