adjective
The definition of inebriated is drunk or intoxicated.

An example of inebriated is when you have had 20 beers.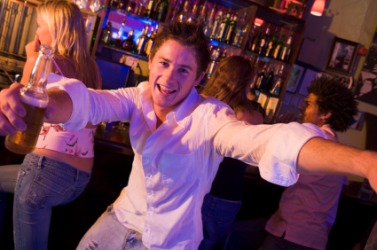 An inebriated young man.
---
inebriated
adjective
drunk; intoxicated
---
inebriated
---
inebriated
Adjective
(comparative more inebriated, superlative most inebriated)
Behaving as though affected by alcohol including exhilaration, and a dumbed or stupefied manner.
Verb
Simple past tense and past participle of inebriate.
Origin
From Latin inebriatus, past participle of inebriare ("to intoxicate"), from ēbrius ("drunk")
---
inebriated
Variant of inebriate
transitive verb
inebriated, inebriating
to make drunk; intoxicate
to excite; exhilarate
Origin of inebriate
; from Classical Latin
inebriatus
, past participle of
inebriare
, to intoxicate ; from
in-
, intensive +
ebriare
, to make drunk ; from
ebrius
, drunk
adjective
drunk; intoxicated
noun
a drunken person, esp. a drunkard