verb
To educate is defined as to teach a skill or subject, or provide with information.

An example of educate is for a teacher to instruct her students in math.
An example of educate is to explain the details of choosing a good wine.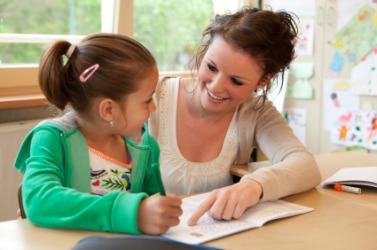 A woman educates a little girl.
---
educate definition by Webster's New World
transitive verb
educated, educating
to train or develop the knowledge, skill, mind, or character of, esp. by formal schooling or study; teach; instruct
to form and develop (one's taste, etc.)
to pay for the schooling of (a person)
Origin: Middle English educaten ; from Classical Latin educatus, past participle of educare, to bring up, rear, or train ; from educere ; from e-, out plush ducere, to lead: see duct
Webster's New World College Dictionary Copyright © 2010 by Wiley Publishing, Inc., Cleveland, Ohio. Used by arrangement with John Wiley & Sons, Inc.
---
educate definition by American Heritage Dictionary
verb
ed·u·cat·ed
,
ed·u·cat·ing
,
ed·u·cates
verb
, transitive
To develop the innate capacities of, especially by schooling or instruction. See Synonyms at teach.
To provide with knowledge or training in a particular area or for a particular purpose: decided to educate herself in foreign languages; entered a seminary to be educated for the priesthood.

a. To provide with information; inform: a campaign that educated the public about the dangers of smoking.

b. To bring to an understanding or acceptance: hoped to educate the voters to the need for increased spending on public schools.

To stimulate or develop the mental or moral growth of.
To develop or refine (one's taste or appreciation, for example).
verb
, intransitive
To teach or instruct a person or group.
Origin: Middle English educaten, from Latin ēducāre, ēducātus; see deuk- in Indo-European roots.