noun
Discipline is defined as a field of study or is training to fix incorrect behavior or create better skills.

An example of discipline is American literature.
An example of discipline is a time out for a child who has just pushed his sibling.
verb
The definition of discipline is to punish someone for their behavior.

An example of discipline is to give detention to a student who keeps talking during lectures.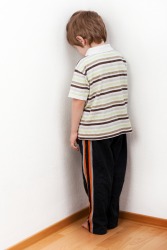 A child being disciplined.
---
discipline definition by Webster's New World
noun
a branch of knowledge or learning

training that develops self-control, character, or orderliness and efficiency
strict control to enforce obedience

the result of such training or control; specif.,

self-control or orderly conduct
acceptance of or submission to authority and control

a system of rules, as for a church or monastic order
treatment that corrects or punishes
Origin: Middle English ; from Old French descepline ; from Classical Latin disciplina ; from discipulus: see disciple
Webster's New World College Dictionary Copyright © 2010 by Wiley Publishing, Inc., Cleveland, Ohio. Used by arrangement with John Wiley & Sons, Inc.
---
discipline definition by American Heritage Dictionary
noun
Training expected to produce a specific character or pattern of behavior, especially training that produces moral or mental improvement.
Controlled behavior resulting from disciplinary training; self-control.

a. Control obtained by enforcing compliance or order.

b. A systematic method to obtain obedience: a military discipline.

c. A state of order based on submission to rules and authority: a teacher who demanded discipline in the classroom.

Punishment intended to correct or train.
A set of rules or methods, as those regulating the practice of a church or monastic order.
A branch of knowledge or teaching.
transitive verb
dis·ci·plined
,
dis·ci·plin·ing
,
dis·ci·plines
To train by instruction and practice, especially to teach self-control to.
To teach to obey rules or accept authority. See Synonyms at teach.
To punish in order to gain control or enforce obedience. See Synonyms at punish.
To impose order on: needed to discipline their study habits.
Origin: Middle English, from Old French descepline, from Latin disciplīna, from discipulus, pupil; see Disciple .
Related Forms: