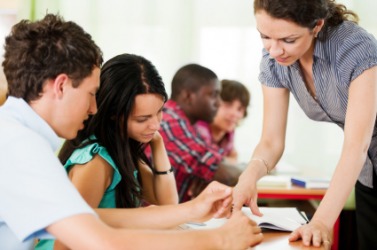 A woman teaches a group of students.
verb
To teach is to share knowledge of a subject with a student or students.

An example of to teach is to explain how to properly mail a letter.
---
teach
transitive verb
taught

,

teach′ing
to show or help (a person) to learn (how) to do something: to teach a child (how) to swim
to give lessons to (a student, pupil, or class); guide the studies of; instruct
to give lessons in (a subject) to someone; help someone to develop (a skill or trait): teaches French, taught him self-discipline

to provide (a person) with knowledge, insight, etc.: the accident that taught her to be careful
to attempt to cause someone to understand or accept (a precept or philosophy), esp. by one's own example or preaching: her life itself teaches nonviolence

to give instruction at or in (a place): to teach school
Origin of teach
Middle English
techen
from Old English
tæcan
from base of
tacn
, a sign, symbol (see token); basic sense "to show, demonstrate," as in German
zeigen
to give lessons or instruction; be a teacher, esp. in a school or college
Teach
---
teach
verb
taught, teach·ing, teach·es
verb
transitive
To impart knowledge or skill to: teaches children.
To provide knowledge of; instruct in: teaches French.
To condition to a certain action or frame of mind: teaching youngsters to be self-reliant.
To cause to learn by example or experience: an accident that taught me a valuable lesson.
To advocate or preach: teaches racial and religious tolerance.
To carry on instruction on a regular basis in: taught high school for many years.
verb
intransitive
To give instruction, especially as an occupation.
noun
Slang
A teacher.
Origin of teach
Middle English
techen
from
Old English
tǣcan
; see
deik-
in Indo-European roots.
---
teach

Verb
(third-person singular simple present teaches, present participle teaching, simple past and past participle taught)
(intransitive) To pass on knowledge, especially as one's profession; to act as a teacher.

She used to teach at university.

To cause to learn or understand.
Antonyms
(intransitive, to pass on knowledge): learn
Origin
From Middle English techen, from Old English tǣċan ("to show, declare, demonstrate; teach, instruct, train; assign, prescribe, direct; warn; persuade"), from Proto-Germanic *taikijanÄ… ("to show"), from Proto-Indo-European *deyǵe-, *deyḱe- ("to show, point out, declare, tell"). Cognate with Scots tech, teich ("to teach"), German zeigen ("to show, point out"), Gothic 𐌲𐌰𐍄𐌴𐌹𐌷𐌰𐌿 (gateihan, "to announce, declare, tell"), Latin dÄ«cō ("speak, say, tell"), Ancient Greek δείκνυμι (deíknumi, "show, point out, explain, teach"). More at token.
Usage notes
Disrespectful
---