noun
The definition of teaching is what a teacher does, or something that's learned.

An example of teaching is the occupation of math teachers who educate their students in math.
An example of a teaching is the knowledge of a math student after attending a math class.
YourDictionary definition and usage example. Copyright © 2013 by LoveToKnow Corp.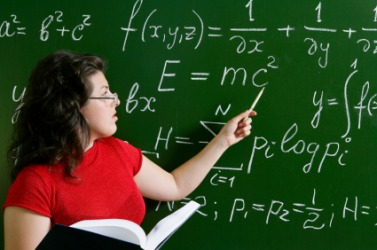 A woman teaching math.
Licensed from iStockPhoto
---
noun
the action of a person who teaches; profession of a teacher
something taught; precept, doctrine, or instruction: usually used in pl.
Webster's New World College Dictionary
Copyright © 2010 by Wiley Publishing, Inc., Cleveland, Ohio.
Used by arrangement with John Wiley & Sons, Inc.
---
noun
The act, practice, occupation, or profession of a teacher.

a. Something taught.

b. A precept or doctrine. Often used in the plural: the teachings of Buddha.
adjective
Of, involving, or used for teaching: teaching materials; teaching methods.
Working as a teacher or in teaching: teaching assistants.
The American Heritage® Dictionary of the English Language
, 4th edition Copyright © 2010 by Houghton Mifflin Harcourt Publishing Company. Published by Houghton Mifflin Harcourt Publishing Company. All rights reserved.
teaching
Variant of teach
transitive verb
taught, teaching
to show or help (a person) to learn (how) to do something: to teach a child (how) to swim
to give lessons to (a student, pupil, or class); guide the studies of; instruct
to give lessons in (a subject) to someone; help someone to develop (a skill or trait): teaches French, taught him self-discipline

to provide (a person) with knowledge, insight, etc.: the accident that taught her to be careful
to attempt to cause someone to understand or accept (a precept or philosophy), esp. by one's own example or preaching: her life itself teaches nonviolence

to give instruction at or in (a place): to teach school
Origin: Middle English techen from Old English tæcan from base of tacn, a sign, symbol (see token); basic sense "to show, demonstrate," as inch(es) German zeigen
intransitive verb
to give lessons or instruction; be a teacher, esp. in a school or college