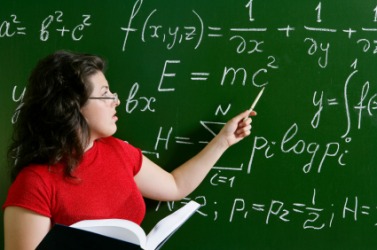 A woman teaching math.
noun
The definition of teaching is what a teacher does, or something that's learned.

An example of teaching is the occupation of math teachers who educate their students in math.
An example of a teaching is the knowledge of a math student after attending a math class.
---
teaching
the action of a person who teaches; profession of a teacher
something taught; precept, doctrine, or instruction: usually used in pl.
---
teaching
noun
The act, practice, occupation, or profession of a teacher.

a. Something taught.

b. often teachings A precept or doctrine: the teachings of Buddha.
adjective
Of, involving, or used for teaching: teaching materials; teaching methods.
Working as a teacher or in teaching: teaching assistants.
---
teaching

Noun
(plural teachings)
Something taught by a religious or philosophical authority.

Many follow the teachings of Confucius.

The profession of teaching.

Teaching has seen continual changes over the past decades.
Verb
Present participle of teach.
---