noun
The definition of teaching is what a teacher does, or something that's learned.

An example of teaching is the occupation of math teachers who educate their students in math.
An example of a teaching is the knowledge of a math student after attending a math class.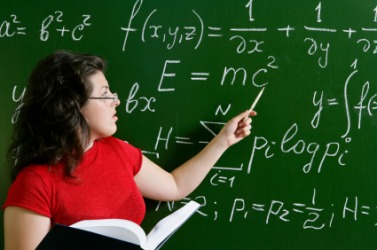 A woman teaching math.
---
teaching definition by Webster's New World
noun
the action of a person who teaches; profession of a teacher
something taught; precept, doctrine, or instruction: usually used in pl.
Webster's New World College Dictionary Copyright © 2010 by Wiley Publishing, Inc., Cleveland, Ohio. Used by arrangement with John Wiley & Sons, Inc.
---
teaching definition by American Heritage Dictionary
noun
The act, practice, occupation, or profession of a teacher.

a. Something taught.

b. A precept or doctrine. Often used in the plural: the teachings of Buddha.
adjective
Of, involving, or used for teaching: teaching materials; teaching methods.
Working as a teacher or in teaching: teaching assistants.
teaching
Variant of teach
transitive verb
taught, teaching
to show or help (a person) to learn (how) to do something: to teach a child (how) to swim
to give lessons to (a student, pupil, or class); guide the studies of; instruct
to give lessons in (a subject) to someone; help someone to develop (a skill or trait): teaches French, taught him self-discipline

to provide (a person) with knowledge, insight, etc.: the accident that taught her to be careful
to attempt to cause someone to understand or accept (a precept or philosophy), esp. by one's own example or preaching: her life itself teaches nonviolence

to give instruction at or in (a place): to teach school
Origin: Middle English techen ; from Old English tæcan ; from base of tacn, a sign, symbol (see token); basic sense "to show, demonstrate," as in German zeigen
intransitive verb
to give lessons or instruction; be a teacher, esp. in a school or college