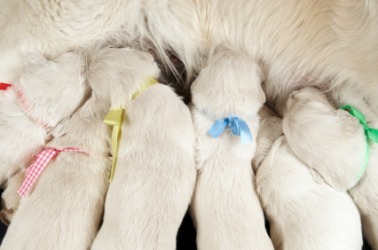 Breeding dogs produces puppies.
noun
The definition of breeding means the producing or raising of young.

An example of breeding is mating two dogs to create puppies.
---
breeding
the producing of young
the rearing of young; upbringing, education, or training, esp. in manners or social behavior
good upbringing or training: tolerance is a sign of breeding
the producing of plants and animals, esp. for the purpose of developing new or better types
Origin of breeding
see breed
---
breeding
noun
One's line of descent; ancestry: a person of noble breeding.
Upbringing or education, especially in proper social behavior.
The production of offspring or young: measures to control the breeding of mosquitoes.
The propagation of animals or plants: a farm devoted to the breeding of horses.
---
breeding

Adjective
breeding (no comparative or superlative; used only before the noun)
Of, relating to or used for breeding.

Your toothbrush is a breeding ground for bacteria.
Verb
Present participle of breed.

Through genetic manipulation and harsh training, I am breeding a species of super-dogs to take over the world.
---