noun
The definition of breeding means the producing or raising of young.

An example of breeding is mating two dogs to create puppies.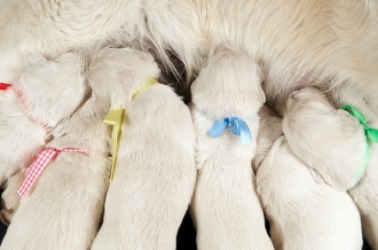 Breeding dogs produces puppies.
---
breeding definition by Webster's New World
noun
the producing of young
the rearing of young; upbringing, education, or training, esp. in manners or social behavior
good upbringing or training: tolerance is a sign of breeding
the producing of plants and animals, esp. for the purpose of developing new or better types
Origin: see breed
Webster's New World College Dictionary Copyright © 2010 by Wiley Publishing, Inc., Cleveland, Ohio. Used by arrangement with John Wiley & Sons, Inc.
---
breeding definition by American Heritage Dictionary
noun
One's line of descent; ancestry: a person of noble breeding.
Training in the proper forms of social and personal conduct.
Production of offspring or young.
The propagation of animals or plants.
breeding
Variant of breed
transitive verb
bred, breeding
to bring forth (offspring) from the womb or hatch (young) from the egg
to be the source of; produce: ignorance breeds prejudice

to cause to reproduce; raise, esp. by controlled mating: to breed dogs
to produce (plants) by selective pollination
to mate with
to develop (a stock or certain characteristics in it) by such mating or pollination

to bring up, train, or educate: he was bred to be a gentleman
to produce (fissile material) in a breeder reactor
Origin: Middle English breden ; from Old English bredan ; from brod, fetus, hatching: see brood
intransitive verb
to be produced; originate: crime breeds in slums
to bring forth offspring; reproduce
noun
a group, or stock, of animals or plants descended from common ancestors and having similar characteristics, esp. such a group cultivated by humans
a kind; sort; type: men of the same breed