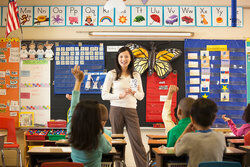 A clear way to express your concept of teaching and your goals for both students and yourself, a teaching philosophy can help you stay focused on your vision as an educator. These well-defined teaching philosophy examples will inspire you to write your own statement about your role as a teacher.
Teaching Philosophy for Elementary Teachers
For elementary school teachers, a teaching philosophy should be at least three paragraphs long and include your vision for your role as a teacher, your methods and assessments, and your goals for your interactions with your students. In this example, the teacher prioritizes the learning environment and relationship younger students have to school and the teacher.
I believe my role as an elementary teacher is to nurture and encourage the lifelong learning of my students. Through hands-on activities, classroom discussion, and even the use of humor, I hope to prompt students to think creatively and explore their natural curiosity. I want them to feel that no question is too silly to ask.

I am strongly committed to regularly assessing students' comfort and engagement in addition to their mastery of material. I believe that regular testing of concepts is important, but students also need to feel like confident, resilient learners. I praise students not just for mastery of material but also for critical thinking, effort, curiosity, and creativity. I lead by example, always working to improve my own skills in these areas as an educator.

Creating a welcoming space for learning is so important, especially for the youngest learners. As an elementary teacher, I am acutely aware that I am defining the school experience for my students. I work hard to make that experience a positive, nurturing one.
Teaching Philosophy for Secondary Education
Middle school and high school teachers have different goals for their students and their role, whether they teach the general population or work with ESL learners. As kids get older, the role of the teacher must change as well. The example teaching philosophy below captures the goals and core values of a teacher during this period of transition.
As a secondary education teacher, I strongly believe that fostering critical thinking skills is at the heart of what we do in education. I am committed to giving students the tools they need to see their own value, analyze information and situations, and effectively solve problems.

Using case studies, real-life examples, and thought-provoking questions, I encourage students to consider their role and how they fit in society. I believe in making social studies concepts real through field trips, hands-on activities, and other interactive learning tools. Although I am committed to teaching the core educational requirements for each age group and providing the feedback that comes with grading, I want to go beyond standardized assessments and create a sense of leadership and capability in my students as citizens of the community.

I see my role as not only providing answers but encouraging students to ask the important questions. I prioritize my relationship with them and model the behaviors I want to see in students through good communication and a genuine interest in understanding other perspectives.
College or University Teaching Philosophy Example
At the college level, a well-defined teaching philosophy is important for advancing in the profession or for applying for most academic positions. There's no set length for these documents, but many people find that around one to two pages is enough space to summarize their philosophy of teaching at this level.
This example shows how you can break the statement down into your learning goals for the students in your classes, the methods you use in teaching, how you assess progress, and how you assess your own work.
At its core, I believe higher education is about going beyond content mastery. I work hard to create a learning environment that fosters critical thinking and problem solving. All students, in order to become engaged members of society, need to understand not only the facts presented in books and lectures, but the questions they need to ask based on the information they learn. I expect students to become self-directed learners, engaging their natural curiosity about the material presented and taking that curiosity to the next level. I see myself and our work in the classroom as the springboard for their further exploration.

To accomplish this, I present information in the most compelling way possible - often through interactive teaching aids and experiential learning opportunities. I bring in real-world examples in the form of professionals from the field of study. At the beginning of each semester, I explain that I expect students to take an active role in their learning, asking questions and going beyond the material presented in class. I give bonus points for class participation, keeping track of which students ask questions or offer new ideas. As part of the final project in most classes, I ask students to present a problem and offer a novel solution for that problem. This requires self-directed research and the ability to put their work into a format others can understand.

In addition to keeping track of student participation, I assess content mastery using traditional examinations. However, I also include an essay question that assesses students' ability to think beyond the information they are given. I expect them to take an active role in learning, and I judge their final project with that in mind.

I also request feedback from students about my presentation of materials and the assignments they complete. I use anonymous surveys at the midway point and at the end of the semester to ensure I am meeting their needs and effectively communicating expectations. I regularly stress my commitment to continual improvement and encourage students to give me feedback during office hours. Through these methods, I hope to exceed their expectations as an instructor.
Short Teaching Philosophy Examples for All Educators
Although a teaching philosophy statement is usually at least one page long, you can take inspiration from these shorter examples. Expand on one or incorporate a version of it into your longer statement.
As an educator, I value creative thinking almost as much as content mastery. I want students to value their own ability to think creatively, and I encourage them to use novel ways to demonstrate their knowledge.
I believe students should apply what they learn in one subject to another subject they are studying. I work to break down the barriers between individual topics and encourage cross-functional application and transference of knowledge.
I strongly feel that the social and emotional development of students is paramount and that good content mastery can only happen when children feel safe in the school environment. I work to ensure my classroom is a safe space for sharing feelings and allowing students to be themselves.
Education is not a one-size-fits-all discipline, and I believe it's essential that my approach is tailored to the specific learning needs of each student. I get to know the students as individuals so I can appropriately support and challenge them academically.
Developing a Philosophy of Teaching
Like an artist who has a statement of purpose or a leader who has crafted a vision statement, developing a teaching philosophy will help keep you focused on the things you value most as an educator. You can develop your strategy by asking yourself some key questions:
What do you see as a successful learning experience for your students?
What do you value as a teacher?
How do you see your relationship with your students?
What are your goals for students? How will you measure these?
Put Your Values Into Practice
Once you know your teaching philosophy, you can put your values into practice. Learn to create lesson plans that fit with your philosophy and create a classroom environment that fosters the skills you want to see in your students. Or be prepared for parent-teacher conference questions by knowing your philosophy by heart.