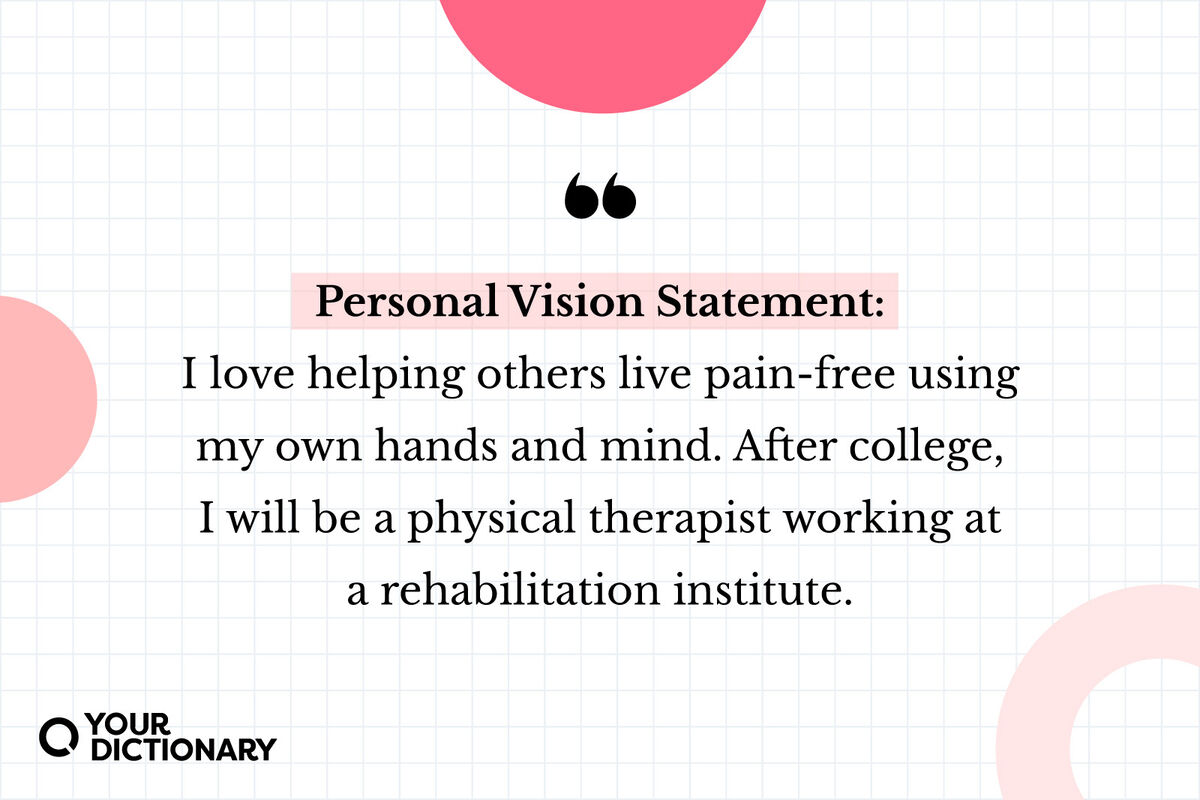 How can you represent your values and goals in just one sentence? A vision statement allows you to do just that. You can use your vision statement as a commitment to a new life or a promise to a potential employer — or both. Use several personal vision statement examples to help craft one of your own for a job interview or self-reflection.
Personal Vision Statement Examples for Leaders
In your career, a personal vision statement can set the direction of your long-term goals and influence your short-term goals. If you keep your vision statement in mind as you make decisions, you'll be working toward your ultimate career satisfaction.
Define your ideal professional role in your personal vision statement, listing one or two of the values or skills that motivate you. Use these examples to help:
My career goal is to become a principal of an elementary school. I love creating a school environment that fosters satisfaction and growth.
After completing my doctorate, I plan to open a psychology clinic where I can help others face challenges in a supportive and growth-oriented way.
My career goal is to become a certified nurse midwife. I am passionate about helping women give birth in a way that is empowering and beautiful.
I plan to open my own business selling local handmade items for the home. I value supporting local artists and offering a sustainable alternative to large corporate stores.
I will get my MBA and become a director at a medical device company. I am passionate about leading others and making life-saving products.
Your personal vision statement may not involve a change in role. Instead, it may involve how you'd like to use your talents. Consider these examples:
I plan to use my people and communication skills in my role as a journalist to give a voice to minority and repressed groups.
I will use my knowledge of finance to help small business owners in my area become more successful and better use their resources.
I will use my experience teaching ESL students to write textbooks and other educational materials that will motivate and inspire these learners.
I plan to share my horticultural knowledge and social work background by setting up a community garden and organizing a farmer's market.
I will use my experience with software development and my creative thinking to develop an app that is successful and well-loved.
Examples of Personal Vision Statements for Students
Thinking about your future can be a challenge, especially when life is changing quickly. This kind of vision statement, typically about 30 to 40 words and one or two sentences long, can clarify your goals and outline the steps to reach them.
Five years is a big life jump for students, and it's the perfect time frame for your vision statement. Consider these examples:
In five years, I will be attending the University of Michigan and majoring in economics.
I love helping people, and in five years, I will be working as a registered nurse.
In five years, I will be graduating from college summa cum laude.
Five years from now, I will be in medical school, pursuing my long-term goal of becoming a doctor.
In five years, I will be changing the world by teaching special education students.
The best vision statements are based on areas where you truly shine. Create a two-sentence vision statement using your talents and values as inspiration.
I'm driven to learn about computer architecture and artificial intelligence. My goal is to attend graduate school for computer science.
I love helping others live pain-free using my own hands and mind. After college, I will be a physical therapist working at a rehabilitation institute.
I love watching others get inspired by the work of great artists and the possibilities of new techniques. My goal is to become an art teacher.
It's important to me to protect our environment without hindering our ability to grow as a society. I plan to study environmental engineering in college.
I value the ability for the older generations to age in place. After graduation, I plan to start a business providing home healthcare.
How To Create Your Own Vision Statement
As you create your own personal vision statement, ask yourself:
What are my core values? 
How do I plan to make the world better?
What would my ideal future look like?
How can I use my skills and experiences to help people?
What would my ideal life look like in one year? Five years? Fifty years?
Once you've narrowed down your values and ideals, craft a one-sentence summary to describe them. Don't be afraid to use specific details — for example, if your goal is "to rid the world of air pollution," use those exact words in your vision statement.
Vision Statement vs. Mission Statement
In your career journey, you may have experience with mission statements, but they're not the same as vision statements. A mission statement is about the present moment, while a vision statement is about your future. However, forming a vision statement for a company can really help you write a high-quality mission statement as a next step.