verb
The definition of acquire means to get or to come into control of something.

An example of acquire is to receive a large sum of money.
YourDictionary definition and usage example. Copyright © 2013 by LoveToKnow Corp.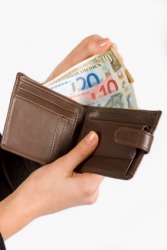 This person has acquired some money.
Licensed from iStockPhoto
---
Webster's New World College Dictionary
Copyright © 2010 by Wiley Publishing, Inc., Cleveland, Ohio.
Used by arrangement with John Wiley & Sons, Inc.
---
transitive verb
ac·quired
,
ac·quir·ing
,
ac·quires
To gain possession of: acquire 100 shares of stock.
To get by one's own efforts: acquire proficiency in math.
To gain through experience; come by: acquired a growing dislike of television sitcoms.
To locate (a moving object) with a tracking system, such as radar.
Origin: Middle English acquere, from Old French aquerre, from Latin acquīrere, to add to : ad-, ad- + quaerere, to seek, get.
Related Forms:
The American Heritage® Dictionary of the English Language
, 4th edition Copyright © 2010 by Houghton Mifflin Harcourt Publishing Company. Published by Houghton Mifflin Harcourt Publishing Company. All rights reserved.