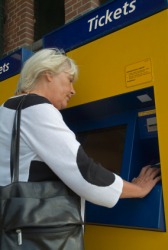 This woman is going to buy train tickets.
verb
The definition of buy means to purchase or to get by exchange.

An example of to buy is giving a cashier twenty dollars for two movie tickets.
---
buy
transitive verb
bought

,

buy′ing
to get by paying or agreeing to pay money or some equivalent; purchase
to get as by an exchange: buy victory with human lives
to be the means of purchasing: all that money can buy
to bribe or hire as by bribing

Slang

to accept as true, valid, practical, etc.: I can't buy this excuse

Archaic, Theol.

to redeem
Origin of buy
Middle English
bien
from Old English
bycgan
from uncertain or unknown; perhaps Indo-European base of bow
to buy something
to buy merchandise as a buyer
the act of buying; a purchase
anything bought or buyable, esp. with reference to its worth as a bargain: a good (or bad) buy

Informal

something worth the price; bargain
buy in
to buy a share of or shares in
to buy back (an item) at an auction by a final, high bid when the other bids are much too low: said as of the orig. owner

Slang

to pay money so as to become a participant, member, etc.
buy into
buy in (senses & ) (see phrase above)

Slang

buy (transitive verb)
buy it
Slang
to die; specif., to be killed
buy out
to buy all the stock, business rights, etc. of
buy time
gain time (sense ) (at time)
buy up
to buy all of or all that is available of
---
buy
verb
bought, buy·ing, buys
verb
transitive
To acquire in exchange for money or its equivalent; purchase. boughten
To be capable of purchasing: "Certainly there are lots of things in life that money won't buy" ( Ogden Nash )
To acquire by sacrifice, exchange, or trade: wanted to buy love with gifts.
To bribe: tried to buy a judge.
Informal To accept the truth or feasibility of: The officer didn't buy my lame excuse for speeding.
verb
intransitive
To purchase something; act as a purchaser.
noun
Something bought or for sale; a purchase.
An act of purchasing: a drug buy.
Something that is underpriced; a bargain.
Phrasal Verbs:
buy down
To pay an upfront fee to reduce (an interest rate) over part or all of the term of a loan.
buy into
To acquire a stake or interest in:
bought into a risky real estate venture.
Informal
To believe in, especially wholeheartedly or uncritically:
couldn't buy into that brand of conservatism.
buy off
To bribe (an official, for example) in order to secure improper cooperation or gain exemption from a regulation or legal consequence.
buy out
To purchase the entire stock, business rights, or interests of.
buy up
To purchase all that is available of.
Origin of buy
Middle English
bien, beyen
from
Old English
bycgan, byg-
Gothic
bugjan
from
Germanic
bugjanan
of unknown origin
Related Forms:
---
buy

---