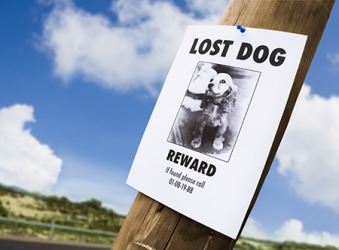 The distraught dog owner posted signs all over town offering a reward for her lost dog Lucille.
noun
The definition of a reward is something paid to a person for the return of something.

An example of reward is the owners of a missing cat giving twenty five dollars to the person who brings the cat home.
---
reward
something given in return for good or, sometimes, evil, or for service or merit
money offered, as for the capture of a criminal, the return of something lost, etc.
compensation; profit

Psychol.

a return for correct response to a stimulus
Origin of reward
Middle English from NormFr, for Old French
regarde
to give a reward to
to give a reward for
to serve as a reward to or for
Origin of reward
ME
rewarden
< NormFr
rewarder,
for OFr
regarder:
see regard
---
reward
noun
A consequence that happens to someone as a result of worthy or unworthy behavior: the rewards of exercise; the rewards of lying to your boss.
Money offered or given for some special service, such as the return of a lost article or the capture of a criminal.
A satisfying return on investment; a profit.
Psychology The return for performance of a desired behavior; positive reinforcement.
transitive verb
re·ward·ed, re·ward·ing, re·wards
To give a reward to or for.
Origin of reward
Middle English
from
Anglo-Norman
from
rewarder
to take notice of
re-
intensive pref.
(
from
Latin; see
re-
. ) (
warder
to guard, watch over
) (
of Germanic origin
; see
wer-
3
in Indo-European roots.)
Related Forms:
---
reward

---