plum

plum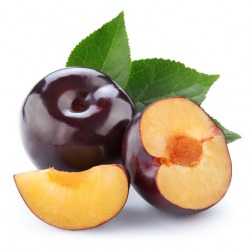 plum
adjective
The definition of plum is something that is highly-desired.

An example of plum is a high-paying job that can be done at home; a plum job.
noun
A plum is defined as the smooth-skinned fruit of the prunus tree, or a bluish-red color.

An example of a plum is a fruit which the British use to make a pudding.
---
plum
any of various small prunus trees bearing a smooth-skinned, edible drupaceous fruit with a flattened stone
the edible fruit

any of various trees bearing plumlike fruits

Origin of plum

prob. from substitution of raisins for plums or prunes in some dishes, which retained their original names a raisin, when used in pudding or cake: plum pudding
the dark bluish-red or reddish-purple color of some plums
something choice or desirable; specif., a well-paying job
Origin of plum
Middle English from Old English
plume
, akin to German
pflaume
from West Germanic an unverified form
pruma
from Vulgar Latin an unverified form
pruna:
see prune
---
plum
noun
a. Any of several shrubs or small trees of the genus Prunus of the rose family, especially the cultivated species P. domestica and P. salicina, bearing smooth-skinned, fleshy, edible fruit with a single stone.

b. The fruit of any of these trees.

a. Any of several trees bearing plumlike fruit.

b. The fruit of such a tree.

A raisin, when added to a pudding or cake.
A sugarplum.
A dark purple to deep reddish purple.
An especially desirable position, assignment, or reward: an ambassadorship granted as a political plum.
Origin of plum
Middle English
from
Old English
plūme
Old High German
phrūma
pflūmo
Greek
proumnon
and
Latin
prūnum
all ultimately from a common unknown source
Informal
adverb
adjective
Variant of plumb
---
plum

---