verb
To pay is defined as to give someone what is due, usually money, for goods or services.

An example of to pay is giving money to a server at a restaurant for a meal.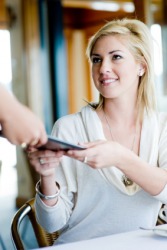 A woman pays for her lunch at a restaurant.
---
pay definition by Webster's New World
transitive verb
paid or

Obsolete

payed, paying
to give to (a person) what is due, as for goods received, services rendered, etc.; remunerate; recompense
to give (what is due or owed) in return, as for goods or services
to make a deposit or transfer of (money): paid $50 into the credit union
to discharge or settle (a debt, obligation, expenses, etc.) by giving something in return

to give or offer (a compliment, respects, attention, etc.)
to make (a visit, call, etc.)

to yield as a recompense or return: a job that pays $90
to be worthwhile or profitable to: it will pay him to listen
Origin: Middle English paien, to pay, satisfy ; from Old French paier ; from Classical Latin pacare, to pacify ; from pax, peace
intransitive verb
to give due compensation; make payment
to be profitable or worthwhile
to yield return or compensation as specified: a stock that pays poorly
noun
a paying or being paid; payment
money paid, esp. for work or services; wages or salary
anything, good or bad, given or done in return

Now Rare

a person regarded as a credit risk
adjective
rich enough in minerals, ore, etc. to make mining profitable: pay gravel
operated or made available by depositing coins, submitting credit cards, etc.: a pay telephone, pay toilet
designating a service, facility, etc. paid for by subscription, fees, etc.: pay TV
Webster's New World College Dictionary Copyright © 2010 by Wiley Publishing, Inc., Cleveland, Ohio. Used by arrangement with John Wiley & Sons, Inc.
---
pay definition by American Heritage Dictionary
verb
paid
paid
,
pay·ing
,
pays
verb
, transitive
To give money to in return for goods or services rendered: pay the cashier.
To give (money) in exchange for goods or services: paid four dollars for a hamburger; paid an hourly wage.
To discharge or settle (a debt or obligation): paying taxes; paid the bill.

a. To give recompense for; requite: a kindness that cannot be paid back.

b. To give recompense to; reward or punish: I'll pay him back for his insults.

To bear (a cost or penalty, for example) in recompense: She paid the price for her unpopular opinions.
To yield as a return: a savings plan that paid six percent interest.
To afford an advantage to; profit: It paid us to be generous.
To give or bestow: paying compliments; paying attention.
To make (a visit or call).
Past tense and past participle paid paid or payed To let out (a line or cable) by slackening.
verb
, intransitive
To give money in exchange for goods or services.
To discharge a debt or obligation.
To bear a cost or penalty in recompense: You'll pay for this mischief!
To be profitable or worthwhile: It doesn't pay to get angry.
adjective
Of, relating to, giving, or receiving payments.
Requiring payment to use or operate: a pay toilet.
Yielding valuable metal in mining: a pay streak.
noun
The act of paying or state of being paid.
Money given in return for work done; salary; wages.

a. Recompense or reward: Your thanks are pay enough.

b. Retribution or punishment.

Paid employment: the workers in our pay.
A person considered with regard to his or her credit or reliability in discharging debts.
Phrasal Verbs:
pay off
To pay the full amount on (a debt). To effect profit:
a bet that paid off poorly.
To get revenge for or on; requite. To pay the wages due to (an employee) upon discharge.
Informal
To bribe.
Nautical
To turn or cause to turn (a vessel) to leeward.
pay out
To give (money) out; spend. To let out (a line or rope) by slackening.
pay up
To give over the full monetary amount demanded.
Origin: Middle English paien, from Old French paiier, from Late Latin pācāre, to appease, from Latin, to pacify, subdue, from pāx, pāc-, peace; see pag- in Indo-European roots.
Word History:
Given the unpeaceful feelings one often has in paying bills or income taxes, it is difficult to believe that the word
pay
ultimately derives from the Latin word
pāx,
"peace." However, it is not the peace of the one who pays that is involved in this development of meaning. From
pāx,
meaning "peace" and also "a settlement of hostilities," was derived the word
pācāre,
"to impose a settlement on peoples or territories." In Late Latin
pācāre
was extended in sense to mean "to appease." The Old French word
paiier
that developed from Latin
pācāre
came to have the specific application "to pacify or satisfy a creditor," a sense that came into Middle English along with the word
paien
(first recorded around the beginning of the 13th century), the ancestor of our word
pay.
transitive verb
payed
payed
or
paid
,
pay·ing
,
pays
To coat or cover (seams of a ship, for example) with waterproof material such as tar or asphalt.
Origin: Obsolete French peier, from Old French, from Latin picāre, from pix, pic-, pitch.
The American Heritage® Dictionary of the English Language, 4th edition Copyright © 2010 by Houghton Mifflin Harcourt Publishing Company. Published by Houghton Mifflin Harcourt Publishing Company. All rights reserved.
---
pay - Business Definition
To compensate someone for goods received or service performed.
To satisfy part or all of an obligation.
The American Heritage® Dictionary of Business Terms Copyright © 2010 by Houghton Mifflin Harcourt Publishing Company. Published by Houghton Mifflin Harcourt Publishing Company. All rights reserved.
---
pay - Phrases/Idioms
pay as you go
☆
to pay expenses as they arise
pay back
to repay
to retaliate upon
pay down
to pay in cash
to pay (part of the purchase price) at the time of purchase: used in installment buying
pay for
to suffer or undergo punishment because of
to atone or make amends for
pay off
to pay all that is owed on (a debt, etc.) or to (a person, as in discharging from employment)
to take revenge on (a wrongdoer) or for (a wrong done)
to yield full recompense or return, for either good or evil

Informal

to bring about a desired result; succeed

Naut.

to swing or allow to swing away from the wind: said of the bow of a vessel
pay someone's way
to pay someone's share of the expenses
pay out
to give out (money, etc.); expend
to let out (a rope, cable, etc.) gradually
pay up
to pay in full or on time
with pay
with wages or salary included a two-week vacation with pay
pay (one's) dues
To earn a given right or position through hard work, long-term experience, or suffering:
She paid her dues in small-town theaters before being cast in a Broadway play.
pay (one's) way
To contribute one's own share; pay for oneself.
pay the piper
To bear the consequences of something.
pay through the nose
Informal
To pay excessively.