wage

wage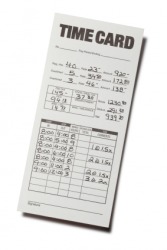 This time sheet is used to calculate wages.
noun
Wage is money paid to a worker for work performed, or the price you pay for doing something wrong or unwise.

If you make $10 per hour at work, this is an example of your wage.
If the consequences of a lie is punishment, this is an example of a time when the wages of lies are punishment.
verb
To wage is to conduct or carry on a campaign against something.

When you campaign against higher taxes, this is an example of a time when you wage a campaign against taxation.
---
wage
transitive verb
waged

,

wag′ing
to engage in or carry on (a war, struggle, campaign, etc.)

Chiefly Brit., Dial.

to hire
Origin of wage
Middle English
wagen
from Norman French
wagier
(OFr
gagier
) from
wage
(OFr
gage
), a stake, pledge from Frankish an unverified form
wadi
, akin to Gothic
wadi
, a pledge: for Indo-European base see wed
[often pl.] money paid to an employee for work done, and usually figured on an hourly, daily, or piecework basis
[usually pl.] what is given in return; recompense; requital: formerly the plural form was often construed as singular: "The wages of sin is death"
[pl.]

Econ.

the share of the total product of industry that goes to labor, as distinguished from the share taken by capital
---
wage
noun
A regular payment, usually on an hourly, daily, or weekly basis, made by an employer to an employee, especially for manual or unskilled work.
wages The price of labor in an economy.
often wages used with a sing. or pl. verb A fitting return; a recompense: the wages of sin.
transitive verb
waged, wag·ing, wag·es
To engage in (a war or campaign, for example).
Origin of wage
Middle English
from
Old North French
of Germanic origin
---
wage

Origin
From Anglo-Norman, from Old Northern French wage, a northern variant of Old French gauge, guage (whence modern French gage), itself (possibly through a Vulgar Latin root *wadium) from Frankish *waddi, wadja (cognate with Old English wedd), from Proto-Germanic *wadjō, *wadi- ("pledge"), from Proto-Indo-European *wadh- ("to pledge, redeem a pledge"). Akin to Old Norse veþja "to pledge", Gothic wadi. Cf. also the doublet gage. More at wed. Possible contributory etylomolgy from from the Old English wæge (meaning "weight," as wages at times have been goods or coin measured on a scale).
Verb
(third-person singular simple present wages, present participle waging, simple past and past participle waged)
Shakespeare

to wake and wage a danger profitless

Holinshed

abundance of treasure which he had in store, wherewith he might wage soldiers

To conduct or carry out (a war or other contest).
To adventure, or lay out, for hire or reward; to hire out.
Usage notes
"Wage" collocates strongly with "war", leading to expressions such as To wage peace, or To wage football implying the inclusion of a large element of conflict in the action.
Origin
From Middle English wagen ("to pledge"), from Anglo-Norman, Old Northern French wagier, a northern variant of Old French guagier (whence modern French gager), itself either from guage or from a derivative of Frankish *waddi, *wadja, possibly through a Vulgar Latin intermediate *wadiare from *wadium.
---
wage - Legal Definition
n
The payment to an employee, usually based on hours worked or quantity of goods or services produced.
---