rate

rate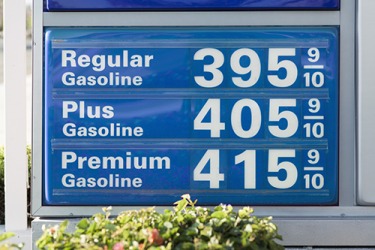 The sign at the convenience store shows the rate for gasoline.
noun
The definition of a rate is a quantity measured and compared to another quantity measured (such as a number of miles per hour) or is the cost of something.

An example of a rate is being paid $10 per hour.
An example of a rate is the price of gas.
verb
Rate is defined as to judge or estimate the value of something.

An example of to rate is to assign scores in a singing competition.
---
rate
the amount, degree, etc. of anything in relation to units of something else: the rate of pay per month, rate of speed per hour
a fixed ratio; proportion
a price or value; specif., the cost per unit of some commodity, service, etc.: insurance rate
speed of movement or action: to read at a moderate rate
the amount of time gained or lost by a timepiece within a specified period

Now Rare

a class or rank: of the first rate

Brit.

a local property tax: usually used in pl.

Obs.

amount; quantity

U.S. Navy

the grade of a petty officer within a rating: the sailor's rate is Quartermaster first class
Origin of rate
Old French from Classical Latin
rata (pars)
, reckoned (part), feminine of
ratus,
past participle of
reri,
to reckon from Indo-European an unverified form
r?-,
variant, variety of base an unverified form
ar-,
to fit, join from source art, order
transitive verb
rat′ed

,

rat′ing
to estimate the value, worth, strength, capacity, etc. of; appraise

to put into a particular class or rank

U.S. Navy

to assign a rate to

to consider; esteem: they are rated among the best
to fix or determine the rates for

Informal

to deserve: to rate an increase
to be classed or ranked
to have value, status, or rating
at any rate
in any event; whatever happens
at least; anyway
transitive verb
intransitive verb
rat′ed

,

rat′ing
to scold severely; chide
Origin of rate
Middle English
raten
from uncertain or unknown; perhaps Old French
reter,
to blame, accuse from Classical Latin
reputare,
to count: see repute
---
rate
noun
A quantity measured with respect to another measured quantity: a rate of speed of 60 miles an hour.
A measure of a part with respect to a whole; a proportion: the mortality rate; a tax rate.
The cost per unit of a commodity or service: postal rates.
A charge or payment calculated in relation to a particular sum or quantity: interest rates.
Level of quality.
often rates Chiefly British A locally assessed property tax.
verb
rat·ed, rat·ing, rates
verb
transitive
a.

To place in a particular class, rank, or grade:

rated the film PG13; rated the bonds at junk level.

See Synonyms at

estimate

.

b. To specify the performance limits of, especially according to a standard scale: This fuse is rated at 50 amperes. The fishing line is rated for 30 pounds.

To regard or consider as having a certain value: rated the movie excellent; rated him a fine cook.
Chiefly British To value for purposes of taxation.
To set a rate for (goods to be shipped).
Informal To merit or deserve: people that rate special treatment; an idea that rates attention. See Synonyms at earn.
verb
intransitive
To be ranked in a particular class: a wine that rates higher than any other.
Informal To have status, importance, or influence: Tea-flavored ice cream doesn't rate highly in my book.
Origin of rate
Middle English
from
Old French
from
Medieval Latin
rata
proportion
short for
Latin
(prō) ratā (parte)
(according to a) fixed (part)
from feminine ablative past participle of
rērī
to consider, reckon
; see
ar-
in Indo-European roots.
verb
rat·ed, rat·ing, rates
Archaic
verb
transitive
To berate.
verb
intransitive
To express reproof.
Origin of rate
Middle English
raten
perhaps of Scandinavian origin
---
rate

---
rate - Legal Definition
n
A fixed or stated price for a specified unit of a commodity or service, such as  $2 per pound or $9 per hour; a percentage of an amount, such as
percent interest on capital; a relative or proportional value.
---