velocity
ve·loc·i·ty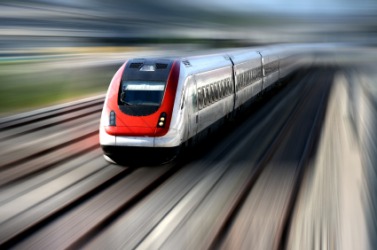 A train moves at a high velocity.
noun
Velocity is the rate of motion, speed or action.

An example of velocity is a car driving at 75 miles per hour.
---
velocity
pl.
-·ties
quickness or rapidity of motion or action; swiftness; speed

rate of change of position, in relation to time; speed (sense )
a vector quantity that specifies both the speed of a body and its direction of motion: abbrev. v
Origin of velocity
French
vélocité
; from Classical Latin
velocitas
; from
velox:
see velocipede
---
velocity
noun
pl.
ve·loc·i·ties
Rapidity or speed of motion; swiftness.
Physics A vector quantity whose magnitude is a body's speed and whose direction is the body's direction of motion.

a. The rate of speed of action or occurrence.

b. The rate at which money changes hands in an economy.
Origin of velocity
Middle English
velocite
, from Old French, from Latin
v&emacron;l&omacron;citas
, from
v&emacron;l&omacron;x, v&emacron;l&omacron;c-
,
fast
; see
weg-
in Indo-European roots.
---
velocity
Noun
(countable and uncountable, plural velocities)
(physics) A vector quantity that denotes the rate of change of position with respect to time, or a speed with the directional component.
Rapidity of motion.
The rate of occurrence.
(economics) The number of times that an average unit of currency is spent during a specific period of time.
Origin
From Latin vÄ"lōcitās ("speed"), from vÄ"lōx ("fast").
---
velocity - Investment & Finance Definition
The rate at which a given dollar changes hands during a certain period of time. The faster money turns over, the higher the velocity. A higher velocity is associated with a higher dollar volume of transactions and could lead to inflation. Velocity is calculated by dividing gross domestic product by money supply. Economists who subscribe to monetarism believe that the changes in velocity are fairly predictable, and they study the causes of money growth and changes in velocity to estimate future economic growth.
---