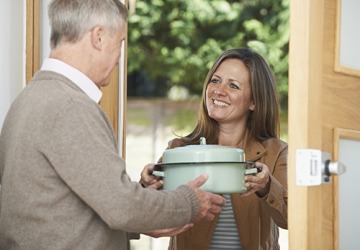 Rachel will requite her next door neighbor Stewart by bringing him a casserole because he picked up her mail while she was out of town.
verb
Requite is defined as to return or repay for a benefit, a service or a wrong that was corrected.

An example of requite is to bring food to a local firehouse to thank the first responders for their service.
---
requite
transitive verb
-·quit′ed

,

-·quit′ing
to make return or repayment for (a benefit, service, etc., or an injury, wrong, etc.)
to make return or repayment to for a benefit, injury, etc.; reward or retaliate against

Now Rare

to give or do in return
Origin of requite
re- +
quite,
obsolete variant, variety of quit
---
requite
transitive verb
re·quit·ed, re·quit·ing, re·quites
a. To make return for (something done or felt) in a similar or appropriate fashion: "Pearl felt the sentiment, and requited it with the bitterest hatred that can be supposed to rankle in a childish bosom" ( Nathaniel Hawthorne )

b. To avenge (an insult or wrongdoing).

a. To respond to (another) or do something to or for (another) in return for that person's action or emotion: "If he love me to madness, I shall never requite him" ( Shakespeare )

b. To get revenge on (another) for wrongdoing.
Origin of requite
Middle English
requiten
re-
re-
quiten
to pay
; see
quit
.
Related Forms:
---
requite

Verb
(third-person singular simple present requites, present participle requiting, simple past and past participle requited)
To return in kind; To repay; to recompense; to reward.
To retaliate.
Origin
From Middle English: re- + quite (to clear, pay up)
---