amphitheater
[am′fə t̸hē′ə tər]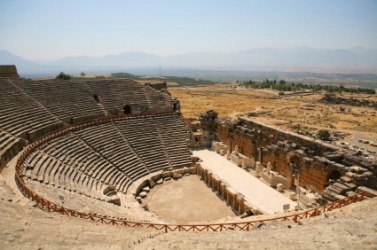 An old Roman amphitheater.
---
amphitheater
or amphitheatre
noun
a round or oval building with an open space (arena) surrounded by rising rows of seats
a scene of conflict, competition, etc.; arena
a sloping gallery in a theater
a lecture hall with a sloping gallery, esp. one for observing surgical procedures in a medical school or hospital
a level place surrounded by rising ground
Origin of amphitheater
Classical Latin
amphitheatrum
; from Classical Greek
amphitheatron
: see amphi- and amp; theater
---
amphitheater
noun
An oval or circular structure having tiers of seats rising gradually outward from a central open space or arena.
Geology A level area surrounded by upward sloping ground.
An upper, sloping gallery with seats for spectators, as in a theater or operating room.
Origin of amphitheater
Middle English
amphitheatre
, from Latin
amphitheātrum
, from Greek
amphitheātron
:
amphi-
,
amphi-
+
theātron
,
theater
; see
theater
.
Related Forms:
am′phi·the·at′ric , am′phi·the·at′ri·cal

adjective
am′phi·the·at′ri·cal·ly

adverb
---
amphitheater
Noun
(plural amphitheaters)
(US) A semi-circular acoustic backdrop behind performers for an outdoor venue.

The symphony warmed up inside the amphitheater while the audience crowded around outside.

(historical) A completely circular outdoor arena; a classic European amphitheatre.
See also:
amphitheatre
---