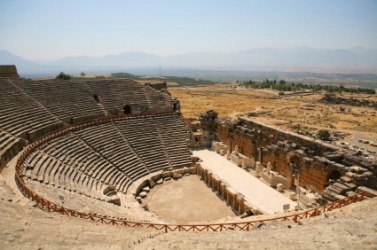 An old Roman amphitheater.
---
amphitheater definition by Webster's New World
or amphitheatre
noun
a round or oval building with an open space (arena) surrounded by rising rows of seats
a scene of conflict, competition, etc.; arena
a sloping gallery in a theater
a lecture hall with a sloping gallery, esp. one for observing surgical procedures in a medical school or hospital
a level place surrounded by rising ground
Origin: Classical Latin amphitheatrum ; from Classical Greek amphitheatron: see amphi- and amp; theater
Webster's New World College Dictionary Copyright © 2010 by Wiley Publishing, Inc., Cleveland, Ohio. Used by arrangement with John Wiley & Sons, Inc.
---
amphitheater definition by American Heritage Dictionary
noun
An oval or round structure having tiers of seats rising gradually outward from a central open space or arena.
An arena where contests and spectacles are held.
A level area surrounded by upward sloping ground.
An upper, sloping gallery with seats for spectators, as in a theater or operating room.
Origin: Middle English amphitheatre, from Latin amphitheātrum, from Greek amphitheātron : amphi-, amphi- + theātron, theater; see theater.
Related Forms:
amˌphi·the·atˈric , amˌphi·the·atˈri·cal

adjective
amˌphi·the·atˈri·cal·ly

adverb