auditorium
[ô′də tôr′ē əm]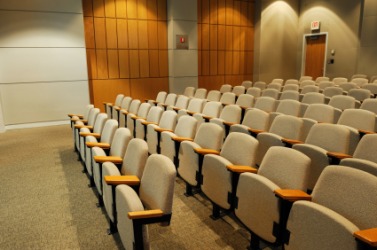 An empty auditorium.
noun
The definition of an auditorium is a place to which people may come to observe a sports event or performance.

An example of an auditorium is the large room in which parents may gather to watch their child's musical performance at school.
---
auditorium
noun
a room for the gathering of an audience, as in a school, library, etc.
☆ a building or hall for speeches, concerts, etc.
Origin of auditorium
Classical Latin neuter of
auditorius
: see auditory
---
auditorium
noun
pl.
au·di·to·ri·ums
or
au·di·to·ri·a
A large room to accommodate an audience in a building such as a school or theater.
A large building for public meetings or performances.
Origin of auditorium
Latin, from
audīre
,
to hear
; see
au-
in Indo-European roots.
---
auditorium
Noun
(plural auditoriums or auditoria)
(in a theater, etc.) The space where the audience is located.
Origin
From Latin audītōrium, from audītōrius ("pertaining to hearing").
---