chapel

chap·el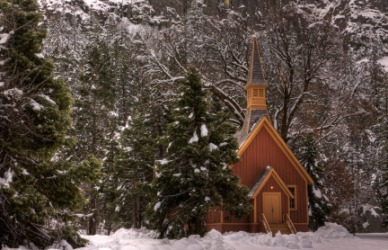 The small chapel in Yosemite.
noun
The definition of a chapel is a small room inside a church or other building used for worship or other religious ceremonies.

An example of chapel is a room inside a hospital where people go to pray.
An example of chapel is a building in Las Vegas where an Elvis Presley impersonator will perform your wedding.
---
chapel
a place of Christian worship subordinate to and smaller than a church

a room or building used as a place of worship, as in a hospital, school, or army post
a room in a funeral home for funeral services

a room or recess in a church, set apart for special services and having its own altar
a similar room in some Jewish synagogues

a service in a chapel, or any religious service, as at a school
the singers of a private chapel, collectively
a local chapter of a printers' union
in Great Britain, any place of worship for those who are not members of an established church
Origin of chapel
Middle English and Old French
chapelle
from Medieval Latin
cappella
, diminutive of
cappa
, cape from LL: origin, originally , sanctuary in which the
cappa
or cope of St. Martin was preserved; then, any sanctuary
---
chapel
noun
a. A place of worship that is smaller than and subordinate to a church.

b. A place of worship in an institution, such as a prison, college, or hospital.

c. A recess or room in a church set apart for special or small services.

d. A place of worship for those not belonging to an established church.

e. The services held at a chapel: Students attend chapel each morning.

Music A choir or orchestra connected with a place of worship at a royal court.

a. A funeral home.

b. A room in a funeral home used for conducting funeral services.
Origin of chapel
Middle English
chapele
from
Old French
from
Medieval Latin
capella
chapel, canopy, cape (perhaps from a shrine containing the cape of St. Martin of Tours)
diminutive of
capa
from
Late Latin
cappa
hooded cloak
---
chapel

---