noun
The definition of a chapel is a small room inside a church or other building used for worship or other religious ceremonies.

An example of chapel is a room inside a hospital where people go to pray.
An example of chapel is a building in Las Vegas where an Elvis Presley impersonator will perform your wedding.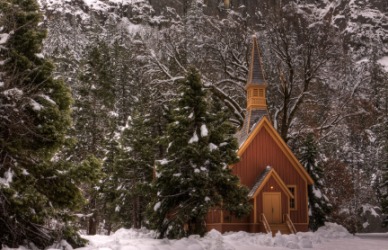 The small chapel in Yosemite.
---
chapel definition by Webster's New World
noun
a place of Christian worship subordinate to and smaller than a church

a room or building used as a place of worship, as in a hospital, school, or army post
a room in a funeral home for funeral services

a room or recess in a church, set apart for special services and having its own altar
a similar room in some Jewish synagogues

a service in a chapel, or any religious service, as at a school
the singers of a private chapel, collectively
a local chapter of a printers' union
in Great Britain, any place of worship for those who are not members of an established church
Origin: Middle English and amp; Old French chapelle ; from Midieval Latin cappella, diminutive of cappa, cape ; from LL: origin, originally , sanctuary in which the cappa or cope of St. Martin was preserved; then, any sanctuary
Webster's New World College Dictionary Copyright © 2010 by Wiley Publishing, Inc., Cleveland, Ohio. Used by arrangement with John Wiley & Sons, Inc.
---
chapel definition by American Heritage Dictionary
noun
a. A place of worship that is smaller than and subordinate to a church.

b. A place of worship in an institution, such as a prison, college, or hospital.

c. A recess or room in a church set apart for special or small services.

d. A place of worship for those not belonging to an established church.

e. The services held at a chapel: Students attend chapel each morning.

Music A choir or orchestra connected with a place of worship at a royal court.

a. A funeral home.

b. A room in a funeral home used for conducting funeral services.
Origin: Middle English chapele, from Old French, from Medieval Latin capella, chapel, canopy, cape (perhaps from a shrine containing the cape of St. Martin of Tours), diminutive of capa, from Late Latin cappa, hooded cloak.