circuit

cir·cuit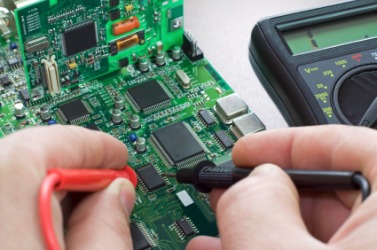 An electronics circuit board.
noun
The definition of a circuit is a closed path or a line forming a boundary.

An example of circuit is the wires made up of conductors and other components that allow for electricity to travel on wires.
An example of circuit is the path taken by a judge who officates at several courts.
---
circuit
the line or the length of the line forming the boundaries of an area
the area bounded
the act of going around something; course or journey around: the moon's circuit of the earth

the regular journey of a person performing certain duties, as of an itinerant preacher or a judge holding court at designated places
the district periodically traveled through in the performance of such duties
the route traveled

the judicial district of a U.S. Court of Appeals

a number of associated theaters at which plays, movies, etc. are shown in turn
a group of nightclubs, resorts, etc. at which entertainers appear in turn
a sequence of contests or matches held at various places, in which a particular group of athletes compete; also, an association or league of athletic teams: the professional bowlers' circuit

Elec.

a complete or partial path over which current may flow
any hookup, wiring, etc. that is connected into this path, as for radio, television, or sound reproduction
Origin of circuit
Middle English from Old French from Classical Latin
circuitus,
a going around, circuit from
circumire
from
circum
(see circum-) +
ire,
to go: see year
---
circuit
noun
a.

A closed, usually circular line that goes around an object or area. See Synonyms at

circumference

.

b. The region enclosed by such a line.

a. A path or route the complete traversal of which without local change of direction requires returning to the starting point.

b. The act of following such a path or route.

c. A journey made on such a path or route.

Electronics

a. A closed path followed or capable of being followed by an electric current.

b. A configuration of electrically or electromagnetically connected components or devices.

a. A regular or accustomed course from place to place; a round: a salesperson on the Detroit-Minneapolis-Chicago circuit; a popular speaker on the lecture circuit.

b. The area covered by such a course, especially by the judge or judges of a court.

a. An association of theaters in which plays, acts, or films move from theater to theater for presentation.

b. A group of nightclubs, show halls, or resorts at which entertainers appear in turn.

c. A series of competitions held in different places.
intr. & tr.v.
cir·cuit·ed, cir·cuit·ing, cir·cuits
To make a circuit or circuit of.
Origin of circuit
Middle English
circumference
from
Old French
from
Latin
circuitus
a going around
from
past participle of
circumīre
to go around
circum-
circum-
īre
to go
; see
ei-
in Indo-European roots.
circuit
top: Bulbs in a series circuit are dim because electricity has to pass through every bulb in the circuit before returning to the battery.
bottom: Bulbs in a parallel circuit shine brightly because each bulb has its own circuit that connects directly to the battery.
---
circuit

Noun
(plural circuits)
The act of moving or revolving around, or as in a circle or orbit; a revolution; as, the periodical circuit of the earth around the sun.
The circumference of, or distance around, any space; the measure of a line around an area.
(electricity) Enclosed path of an electric current, usually designed for a certain function.
A regular or appointed journeying from place to place in the exercise of one's calling, as of a judge, or a preacher.
(law) A certain division of a state or country, established by law for a judge or judges to visit, for the administration of justice.
(law) Abbreviation of circuit court.
By analogy to the proceeding three, a set of theaters among which the same acts circulate; especially common in the heyday of vaudeville.
Verb
(third-person singular simple present circuits, present participle circuiting, simple past and past participle circuited)
(intransitive, obsolete) To move in a circle; to go round; to circulate.

(obsolete) To travel around.

Having circuited the air.
---
circuit - Computer Definition

A closed loop comprising a number of elements such as resistors, capacitors, transistors, and power sources connected together for the purpose of carrying an electrical current.
An end-to-end communications path between a transmitter and a receiver. Circuit generally implies a logical connection, or session, over a physical medium. Circuit often is used interchangeably with path, link, line, and channel, although the usage can be specific to the underlying technology, the overall context, and other factors. Circuits can be characterized in many ways. For example, a circuit can be either two-wire or fourwire in nature, for either access or transport applications. A circuit can be simplex, half-duplex, or fullduplex in nature. A circuit can be dedicated, switched, or virtual in nature. A circuit sometimes is referred to in the vernacular as a pipe, as in a broadband pipe. See also channel, four-wire circuit, line, link, path, twowire circuit, and virtual circuit.
---
---
circuit - Legal Definition
n
Historically, a judicial district wherein a judge would travel from town to town to preside over hearings.
A judicial district established in some states wherein one or more courts have jurisdiction to hear cases.
One of the twelve judicial districts (along with a special nationwide thirteenth circuit) in which the United States is divided for the appellate review of federal trials by a United States Court of Appeals.
---