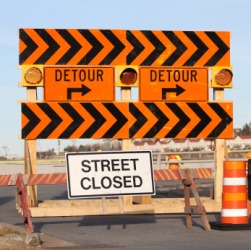 Signs indicating a detour.
noun
The definition of a detour is a route that is different from the ordinary, often used when the direct route cannot be used.

An example of a detour is a side road that drivers must go down when the main road is closed.
verb
Detour is defined as to create or go down a route that is different than the usual route.

An example of detour is to travel down a dirt road when the main turnpike is closed.
---
detour
a roundabout way; deviation from a direct way
a route used when the direct or regular route is closed to traffic
Origin of detour
French
détour
, a turning, evasion from
détourner
, to turn aside from Old French
destourner
from
des-
(L
dis-
), away +
tourner
: see turn
to cause to go by way of a detour
to go around or avoid by using a detour; bypass
---
detour
noun
A roundabout way or course, especially a road used temporarily instead of a main route.
A deviation from a direct course of action.
intr. & tr.v.
de·toured, de·tour·ing, de·tours
To go or cause to go by a roundabout way.
Origin of detour
French
détour
from
Old French
destor
from
destorner
to turn away
des-
de-
torner
to turn
; see
turn
.
---
detour

Verb
(third-person singular simple present detours, present participle detouring, simple past and past participle detoured)
(intransitive) To make a detour.
To direct or send on a detour.
Origin
From French détour, from détourner ("turn away").
See also:
détour
---