insulation

in·su·la·tion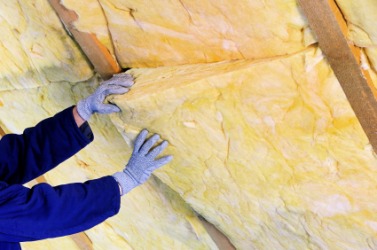 A man installs insulation in a building.
noun
The definition of insulation is material used to trap air and sound.

Fiberglass put into the walls of a house and into the attic in order to keep warm air in and cold air out during the winter months is an example of insulation.
---
insulation
an insulating or being insulated
any material used to insulate
---
insulation
noun
The act of insulating or the state of being insulated.
A material or substance used in insulating: soundproof cork insulation; a layer of trapped air that serves as insulation.
---
insulation

Noun
(countable and uncountable, plural insulations)
The act of insulating, or the state of being insulated; detachment from other objects; isolation.
Any of a variety of materials designed to reduce the flow of heat, either from or into a building.
(engineering) The act of separating a body from others by nonconductors, so as to prevent the transfer of electricity, heat, or sound
(engineering) The state of a body so separated.
(electrical) a medium in which it is possible to maintain an electrical field with little supply of energy from additional sources.
---
insulation - Computer Definition

The dielectric material that surrounds a metal conductor and prevents it from touching another conductor or the ground and, thereby, shorting the circuit. Insulation typically is made of some sort of plastic material. Inside wire and cable standards vary according to the applications, but generally favor insulation that is characterized as low flame-spread, low-smoke, and low-toxicity.
---