verb
Insulate is defined as to separate or keep from others.

An example of insulate is wrapping vegetables in foil before grilling them next to a steak.
An example of insulate is wrapping a hot water heater to prevent the heat of the water from escaping into the air.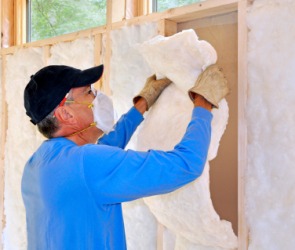 A man insulates a building.
---
insulate definition by Webster's New World
transitive verb
insulated, insulating
to set apart; detach from the rest; isolate
to separate or cover with a nonconducting material in order to prevent the passage or leakage of electricity, heat, sound, radioactive particles, etc.
Origin: ; from Classical Latin insulatus, made like an island ; from insula, isle
Webster's New World College Dictionary Copyright © 2010 by Wiley Publishing, Inc., Cleveland, Ohio. Used by arrangement with John Wiley & Sons, Inc.
---
insulate definition by American Heritage Dictionary
transitive verb
in·su·lat·ed
,
in·su·lat·ing
,
in·su·lates
To cause to be in a detached or isolated position. See Synonyms at isolate.
To prevent the passage of heat, electricity, or sound into or out of, especially by surrounding with a nonconducting material.
Origin: Latin īnsula, island + -ate1.