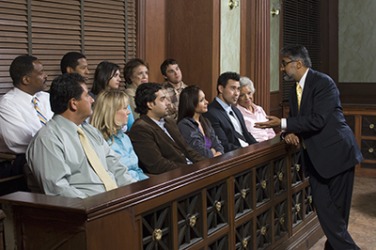 The judge sequestered the jury for the trial because of the extensive media coverage on the high profile case.
verb
To sequester is to take something or someone out of the mainstream or out of circulation and put into isolation.

When a judge orders that a jury in a high-profile case be kept in a hotel for the duration of the trial, this is an example of a situation where the judge sequesters the jury.
---
sequester
to set off or apart; separate; segregate; often, to segregate or isolate (the jury) during a trial
to take and hold (property) by judicial authority, for safekeeping or as security, until a legal dispute is resolved
to take over; confiscate; seize, esp. by authority
to withdraw; seclude: often used reflexively
Origin of sequester
Middle English
sequestren
from Middle French
sequestrer
from Late Latin
sequestrare
, to remove, lay aside, separate from Classical Latin
sequester
, trustee, akin to
sequi
: see sequent
---
sequester
verb
se·ques·tered, se·ques·ter·ing, se·ques·ters
verb
transitive
To remove or set apart; segregate or hide: "Some of the actors … found it disturbing that the director was sequestered in an off-stage control booth" ( Gene D. Phillips ) See Synonyms at isolate.
To cause to withdraw into seclusion: students who sequester themselves in libraries.
To remove or isolate (a chemical, often a gas) from an environment by incorporation, mixing, or insertion under pressure: plants that sequester toxins from wetlands; plans to sequester carbon dioxide produced by a power plant by injection into an underground aquifer.

a. Law To take temporary possession of (property) as security against legal claims.

b. To requisition and confiscate (enemy property).
verb
intransitive
Chemistry
To undergo sequestration.
Origin of sequester
Middle English
sequestren
from
Old French
from
Latin
sequestrāre
to give up for safekeeping
from
Latin
sequester
depositary, trustee
; see
sekw-
1
in Indo-European roots.
---
sequester

Verb
(third-person singular simple present sequesters, present participle sequestering, simple past and past participle sequestered)
To separate from all external influence; to seclude; to withdraw.

The jury was sequestered from the press by the judge's order.

To separate in order to store.

The coal burning plant was ordered to sequester its CO2 emissions.

To set apart; to put aside; to remove; to separate from other things.
(chemistry) To prevent an ion in solution from behaving normally by forming a coordination compound
(law) To temporarily remove (property) from the possession of its owner and hold it as security against legal claims.
To cause (one) to submit to the process of sequestration; to deprive (one) of one's estate, property, etc.
(US, politics, law) To remove (certain funds) automatically from a budget.

The Budget Control Act of 2011 sequestered 1.2 trillion dollars over 10 years on January 2, 2013.
Noun
(plural sequesters)
(law) A person with whom two or more contending parties deposit the subject matter of the controversy; one who mediates between two parties; a referee.

(medicine) A sequestrum.
Part or all of this entry has been imported from the 1913 edition of Webster's Dictionary, which is now free of copyright and hence in the public domain. The imported definitions may be significantly out of date, and any more recent senses may be completely missing.
Origin
Late Latin sequestrō ("set aside"), from Latin sequester ("mediator, trustee").
---
sequester - Legal Definition
v
To isolate or keep apart from all others, as in sequestering certain funds or sequestering a jury. See also
sequestration
.
---