quarantine

quar·an·tine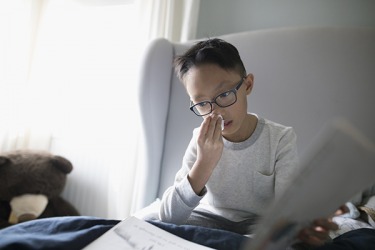 Marcus was quarantined to his bedroom in order to prevent the rest of his family from getting sick.
noun
Quarantine is the place where someone or something is kept separate from others in case or because of a contagious illness.

An example of quarantine is a dog kennel at a customs office.
verb
To quarantine is defined as to keep someone or something away from others.

An example of to quarantine is to keep a sick girl away from her classmates.
---
quarantine
the period, orig. 40 days, during which an arriving vessel suspected of carrying contagious disease is detained in port in strict isolation
the place where such a vessel is stationed

any isolation or restriction on travel or passage imposed to keep contagious diseases, etc. from spreading
the state of being quarantined
a place where persons, animals, or plants having contagious diseases, etc. are kept in isolation, or beyond which they may not travel
any period of seclusion, social ostracism, etc.
Origin of quarantine
Italian
quarantina,
literally , space of forty days from
quaranta,
forty from Classical Latin
quadraginta
from base of
quattuor,
four
transitive verb
-·tined·

,

-·tin·ing
to place under quarantine
to isolate politically, commercially, socially, etc.
---
quarantine
noun
a. A condition, period of time, or place in which a person, animal, plant, vehicle, or amount of material suspected of carrying an infectious agent is kept in confinement or isolated in an effort to prevent disease from spreading.

b. An action resulting in such a condition: the government's quarantine of the animals.

a. An action to isolate another nation, such as a blockade of its ports or a severance of diplomatic or trade relations.

b. The condition of being isolated by such an action.

Computers The isolation of data or data transmissions in order to keep viruses, worms, or other malware from infecting a computer or computer network.
transitive verb
quar·an·tined, quar·an·tin·ing, quar·an·tines
To isolate in quarantine.
Origin of quarantine
Italian
quarantena
from
Venetian dialectal Italian
quarantine of a ship
(
so called because the length of the quarantine was typically forty days
)
from
Old Italian
quarantina
period of forty days (such as one designated for fasting or penance)
from
quaranta
forty
from
Latin
quadrāgintā
; see
kwetwer-
in Indo-European roots.
Related Forms:
quar′an·tin′a·ble

adjective
---
quarantine

---
quarantine - Computer Definition

To isolate files, just as to quarantine sick persons means to isolate them from others in order to stop the spread of disease. Typically, files suspected of containing a virus are put into quarantine so that they cannot be opened or executed.
Symantec's AntiVirus Corporate Edition of software detects suspected files as well as virus-infected files that cannot be patched with current sets of virus-definition remedies. From the "Quarantine" area on a local computer, the quarantined files can be forwarded to Symantec Security Response's central network quarantine for analysis. If the file is found to be infected by a new virus, updated virus definitions and remedies are returned.
See Also: Anti-Virus Software; Malware; Virus.
Symantec Security Response. Glossary. [Online, July 15, 2004]. Symantec Security Response Website. http://securityresponse.symantec.com/avcenter/refa.html.
---
To take a spyware or virus-infected file out of harm's way by stripping its rights or by moving it to a folder that cannot be easily accessible by regular file management utilities. For example, if an antivirus program cannot remove the virus from an executable file, it generally quarantines it. The quarantine function may be an option in antivirus software so that companies can keep a record of which users have been infected, where the file came from as well as to send the virus to the antivirus vendor for inspection. Spyware blockers quarantine files so that they can be restored if required. See antivirus program, disinfect and spyware blocker.
---