verb
Exclude is defined as to keep out or to refuse to admit.

An example of exclude is for a group of children to tell another child that he cannot play with them.
YourDictionary definition and usage example. Copyright © 2013 by LoveToKnow Corp.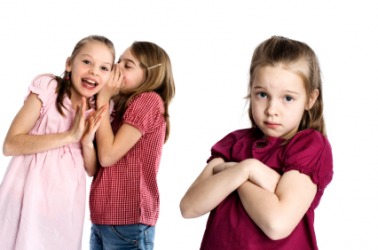 A little girl is being excluded by her friends.
Licensed from iStockPhoto
---
Webster's New World College Dictionary
Copyright © 2010 by Wiley Publishing, Inc., Cleveland, Ohio.
Used by arrangement with John Wiley & Sons, Inc.
---
transitive verb
ex·clud·ed
,
ex·clud·ing
,
ex·cludes
To prevent from entering; keep out; bar: a jar sealed to exclude outside air; an immigration policy that excludes undesirables.
To prevent from being included, considered, or accepted; reject: The court excluded the improperly obtained evidence.
To put out; expel.
Origin: Middle English excluden, from Latin exclūdere : ex-, ex- + claudere, to shut.
Related Forms:
ex·cludˈa·ble, ex·cludˈi·ble

adjective

& n.
The American Heritage® Dictionary of the English Language
, 4th edition Copyright © 2010 by Houghton Mifflin Harcourt Publishing Company. Published by Houghton Mifflin Harcourt Publishing Company. All rights reserved.