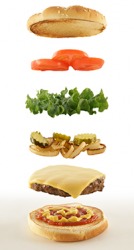 The fast food employee had to make every cheeseburger in this exact sequential order.
adjective
The definition of sequential is things in consecutive or logical order, or is following a certain prescribed order.

If there is a three part process and the steps must be done in a certain logical order, this is an example of the steps of the process being sequential.
---
sequential
sequent
of, relating to, or forming a sequence
---
sequential
adjective
Forming or characterized by a sequence, as of units or musical notes.
Sequent.
Related Forms:
---
sequential

Adjective
(not comparable)
Succeeding or following in order.
---
sequential - Computer Definition
One after the other in some consecutive order such as by name or number.
---