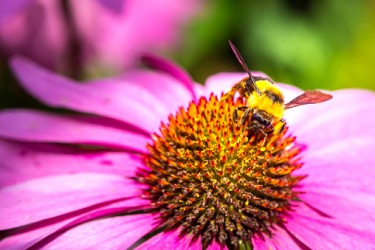 A bee pollinating a flower.
noun
The definition of pollination is when pollen is moved from plant to plant to produce more plants or fruits.

Facts About Pollination

A monoecious plant has both male and female flowers.
Adioecious plant has only male flowers or only female flowers.
Some flowers are able to self pollinate, which means that the pollen falls from the anther to the stigma of the same flower to reproduce their kind. These flowers are called Cleistogamous flowers.
Some pollen is carried through the air by gliding with the wind.
Some pollen contains a sticky substance allowing it to easily attach to migrating animals or insects.
Other pollen has air chambers that allow them to float to their fertilization destination.
Some flowers rely on insects and animals, such as bats and birds, to assist in carrying the pollen.
The wind is used by Anemophilous flowers to move pollen from flower to flower. Since they don't have to attract insects or animals to help with pollination, these are usually not very showy flowers.

An example of pollination is a bee carrying pollen between flowers.
---
pollination

---