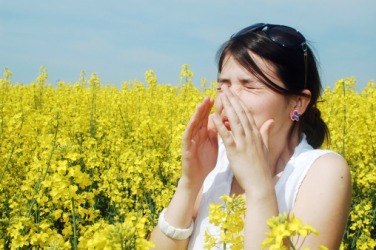 A woman with a pollen allergy.
noun
Pollen is a fine powdery substance that comes from the male part of flowers and often causes people to suffer an allergic reaction.

The fine yellow dust that comes from plants in the spring that makes you sneeze is an example of pollen.
---
pollen
the fine, dustlike mass of grains that are produced in the anthers or microspore sacs of seed plants, containing the male sexual cells (gametophytes) of the plant
Origin of pollen
Modern Latin from L, fine flour, dust from Indo-European base an unverified form
pel
, dust, meal from source Classical Latin
pulvis
, dust, Classical Greek
pal?
, dust
---
pollen
noun
The fine powderlike material whose individual grains contain the male reproductive cells of seed plants. Pollen is produced in the anther in angiosperms and in the male cone in gymnosperms.
Origin of pollen
Latin
fine flour
pollen
top: photomicrograph of ragweed pollen
bottom: photomicrograph of cherry pollen
pollen
---
pollen

---