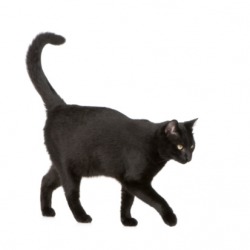 A black cat.
noun
The definition of a portent is an omen or sign of something to come.

An example of a portent is a black cat crossing your path, which is a sign of bad luck to come.
---
portent
something that portends an event about to occur, esp. an unfortunate event; omen
a portending; significance: a howl of dire portent
something amazing; marvel
Origin of portent
Classical Latin
portentum
from
portendere:
see portend
---
portent
noun
An indication of something important or calamitous about to occur; an omen.
Prophetic or threatening significance: signs full of portent.
Archaic Something amazing or marvelous; a prodigy.
Origin of portent
Latin
portentum
from neuter past participle of
portendere
to portend
; see
portend
.
---
portent
---