prodigy

prod·i·gy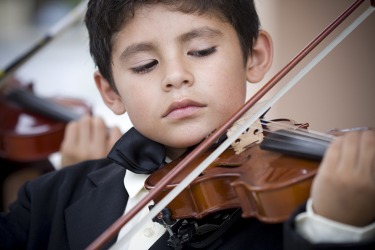 A child musical prodigy playing the violin.
noun
The definition of a prodigy is someone who is especially skilled at a task or especially intelligent, especially at a young age.

An example of a prodigy is chess great Bobby Fisher.
---
prodigy
noun
pl.
-·gies
Rare

an extraordinary happening, thought to presage good or evil fortune
a person, thing, or act so extraordinary as to inspire wonder; specif., a child of highly unusual talent or genius
Origin of prodigy
Classical Latin
prodigium
from
pro-
, before + Old Latin an unverified form
agiom
, a thing said from
aio
, I say: see adage
---
prodigy
noun
pl.
prod·i·gies
A person with exceptional talents or powers: a math prodigy.
An act or event so extraordinary or rare as to inspire wonder: "The Spies performed prodigies of activity in clambering over the rooftops and cutting the streamers that fluttered from the chimneys" ( George Orwell )
Archaic A portentous sign or event; an omen.
Origin of prodigy
Middle English
prodige
portent
from
Latin
prōdigium
---
prodigy

Origin
Middle English prodige ("portent"), from Latin prōdigium ("omen, portent, prophetic sign").
---
prodigy - Computer Definition
An earlier online information service that provided access to the Internet, e-mail and a variety of databases. Launched in 1988, Prodigy was the first consumer-oriented online service in the U.S. and one of the first to offer a graphics-based user interface (GUI) rather than text. The original service used proprietary software, but subsequent improvements produced an all-Internet service that used a Web browser. Founded as a partnership of IBM and Sears, Prodigy was acquired by International Wireless in 1996 and then by SBC Communications in 2001. In 2005, SBC merged with AT&T. See online service.
---