description
de·scrip·tion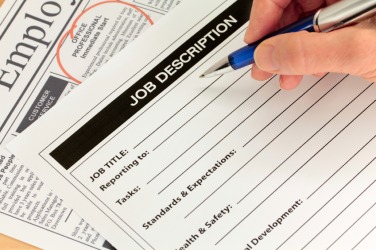 A job description tells about the job.
noun
The definition of a description is a statement that gives details about someone or something.

An example of description is a story about the places visited on a family trip.
---
description
the act, process, art, or technique of describing or picturing in words
a statement or passage that describes
sort, kind, or variety: books of every description
the act of tracing or outlining: the description of a circle
Origin of description
Middle English
descripcioun
from Old French
description
from Classical Latin
descriptio
, a marking out, delineation from past participle of
describere
: see describe
---
description
noun
The act, process, or technique of describing.
A statement or an account describing something: published a description of the journey; gave a vivid description of the game.
A pictorial representation: Monet's ethereal descriptions of haystacks and water lilies.
A kind or sort: cars of every size and description.
Origin of description
Middle English
descripcioun
from
Anglo-Norman
from
Latin
dēscrīptiō
dēscrīptiōn-
from
dēscrīptus
past participle of
dēscrībere
to write down
; see
describe
.
---
description

Noun
(plural descriptions)
A sketch or account of anything in words; a portraiture or representation in language; an enumeration of the essential qualities of a thing or species.
The act of describing; a delineation by marks or signs.
A set of characteristics by which someone or something can be recognized.
(biology) A scientific documentation of a specimen intended to reveal a new species by technically explaining its characteristics and particularly how it differs from other species.

The type description of the fungus was written by a botanist.
Origin
From Old French description, from Latin dēscriptiō.
---